Please click here to leave an anniversary message (in any language you choose). You do not need to be a member of Lowlands-L to do so. In fact, we would be more than thrilled to receive messages from anyone.
Click here to read what others have written so far.




What's with this "Wren" thing?
The oldest extant version of the fable we are presenting here appeared in 1913 in the first volume of a two-volume anthology of Low Saxon folktales (Plattdeutsche Volksmärchen "Low German Folktales") collected by Wilhelm Wisser (1843–1935). Read more ...


| | | |
| --- | --- | --- |
| | | |

---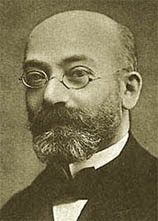 Ludovic Lazarus (Ludwik Lejzer,
Ludwik Łazarz) Zamenhof
(1859–1917), the inventor of
Esperanto
Language information: Esperanto is an artificial language with no native speakers, though some parents have claimed that they have raised their children with it as their first language. Esperanto (a name based upon the word for "hope") is one of the oldest constructed languages and is probably the best known one. It was created in 1887 by Ludwik Zamenhof, a Polish dentist. Esperanto is primarily based on better-known Germanic and Romance languages. Its morphology has been streamlined and thus facilitates learning.
Some organizations with visions of global unity (such as some communist and socialist parties and also many followers of the Bahá'í faith) advocate Esperanto as the neutral global auxiliary language. However, critics regard Esperanto as being fundamentally too much European-based to be neutral.
Despite this, Esperanto has been enjoying a fair degree of success worldwide, not only in Europe and in European-dominated societies elsewhere.
---
Click to open the translations:
[English-Derived 1] [English-Derived 2] [Japanese-Derived]

---
Author: Reinhard F. Hahn

© 2011, Lowlands-L · ISSN 189-5582 · LCSN 96-4226 · All international rights reserved.
Lowlands-L Online Shops: Canada · Deutschland · France · 日本 · UK · USA