Gutisks
Gothic (Biblical)
---
Listen to this story narrated in Gothic:
Translator: Drs. Arthur A. Jones & Robin Wiseman
Locations: Silver Lake, Los Angeles, California (USA) & Recco, Liguria (Italy)
Narrator: Mike Szelog
Transliterators: Reinhard F. Hahn & Mike Szelog
---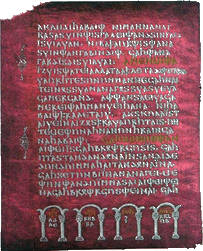 Bishop Ulfilas (Wulfila, ca. 310–388)
translated the Bible from Greek to
Gothic.
Language information: Gothic is an extinct language, belonging to the extinct East Germanic branch. Gothic is important to Germanic linguistics because it (and a handful of early Old Norse runic inscriptions) was recorded long before other Germanic languages.
Gothic offers us a glimpse at an earlier stage of a Germanic. The earliest extant Gothic document in Gothic is a partial Bible translation by Bishop Ulfilas in the 4th century C.E.
(For further information please see the translator's notes).
Genealogy: Indo-European > Germanic > East
---
Click to open the translation: [Click]

---
Author: Reinhard F. Hahn