Guaraní
---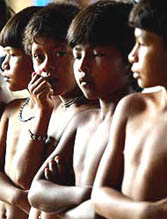 The survival chances of the
language of the Guaraní people
are relatively good due to
official status on a national level.
Language info: The Guaraní language belongs to the indigenous American Tupí-Guaraní family of languages that in pre-Columbian times used to be spoken over a large area east of the Andes Mountain Chain, from the Caribbean Sea up to the Río de la Plata.
With close to five million speakers, Guaraní is still widely used by traditional and integrated indigenous populations in Paraguay, Northern Argentina, Bolivia and Brazil. In Paraguay, Guaraní is an official language alongside Spanish, is used as a first or second language by well over 4.5 million people, as the only language by over 50% of the rural population.
Jopará, a colloquial, more Hispanicized form of Guaraní, is used by about 90% of the population in and around the Paraguayan capital Asunción. This makes Guaraní one of the strongest Native American languages as far as survival chances are concerned.
Genealogy: Tupí > Tupí-Guaraní > Guaraní
Video:
---
Click to open the translation: [Click]

---
Author: Reinhard F. Hahn