Ifugao
---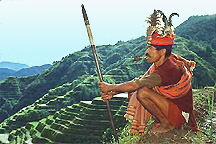 Traditionally attired Ifugao man
and terraced rice fields
Language information: Ifugao is a language used in some mountainous places of the Cordillera Administrative Region on the Philippine island of Luzon. It is the native language of most Ifugao people (approximately 150,000) but is also used as a non-native language by some non-Ifugao people with whom they have regular contacts.
Like some other ethnic groups of the Philippines' remote mountainous regions, the Ifugao are often thought of as aboriginals, and tourism business makes use of their traditional cultural displays, much like of those of the ethnically and linguistically fairly closely related indigenous communities of nearby (now Sinicized) Taiwan. Ifugao textiles, costumes, music, dance and especially their elaborate terraced rice fields attract much attention and admiration.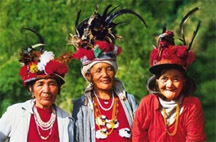 Ifugao women in traditional attire

Due to the remoteness of their homelands, the Ifugao and other such communities experienced less mixing with foreign settlers and with foreign-influenced lowlanders, and they were thus able to preserve more of their pre-colonial culture than most other ethnicities of these islands. Similarly, their languages are far less influenced by European languages than is usual in these regions. However, these days most Ifugao people are quite in touch with the rest of the country and are as knowledgeable about the rest of the world as are other Filipinos, and most of them can speak Tagalog, Ilocano and English besides their native language. They prefer being referred to as "Ifugao" (Ipugaw, < i pugo 'from the soil') to being referred to as "Igorot," a generic label covering all indigenous ethnicities of the Cordillera region (the Bontoc, Ibaloi, Ifugao, Isneg/Apayao, Kalinga and Kankana-ey).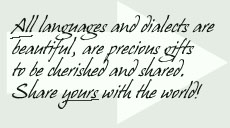 There are several distinct varieties of the Ifugao language, most of them having sub-varieties: Amganad (Burnay, Banaue), Batad (Ayangan, Batad, Ducligan), Mayoyao and Tuwali (Hapao, Hungduan, Lagawe).
These days, Ifugao is a written language and to some degree is used in formal education. There is a rich and highly developed body of Ifugao oral literature, including folk mythology, and some of this is now being collected and recorded. In addition to such literature and also texts of indigenous Ifugao religion, there are now numerous Christian texts in Ifugao dialects.

Genealogy: Austronesian > Malayo-Polynesian&nbsp> Western&nbsp> Philippines&nbsp> Northern Luzon&nbsp> Cordilleran&nbsp> Central&nbsp> Nuclear

Historical Lowlands language contacts: English
---
Click to open the translation: [Click]

---
Other Philippine language varieties: [Click]

---
Author: Reinhard F. Hahn