Nihongo
Japanese
---
Listen?

Translation: Reinhard F. Hahn and Tomoko Kurata Gautier (

) (License)
Locations: Seattle (USA), and Châtillon (France)
Transliteration: Reinhard F. Hahn
Language information: [Click]

---
---
Miso sazai
Miso sazai no su wa kuruma okiba no naka ni arimashita. Aru nichi no koto, oyatori niwa to mo, kodomotachi no tame ni tabemono wo totte koyōto soto e tobitachi, chīsana hinadori dake ga su ni nokosaremashita.
Shibaraku shite, miso sazai no chichioya ga su ni modotte kimashita.
"Nani ga attanda?" to chichioya wa kikimashita. "Kodomotachi, omaetachi ni warui koto o shitano wa, dare nanda? Dō shite sonna ni kowagatte irun da?"
"Ā, papa" to kodomotachi wa iimashita. "Ōkina obake mitaina mono ga, ima sakkiyatte kitanda. Sugoku dōmō de osoro shii kao o shitetanda! Ōkina me de bokutachi no su o nirandanda yo. Bokutachi, tottemo kowakatta!"
"Sōka, wakatta, so itsu wa doko ni ittanda?" to chichioya ga iimashita.
"Ēto, acchino hō e itta" to kodomotachi ga kotaemashita.
"Matte oide" to chichioya ga iimashita. "So itsu o oi kakete itte yaru. Shinpai shinakute iin da yo, kodomotachi, otōsan ga soitsu o tsukamaete yarukara" chichioya wa sō itte, tobi tatte ikimashita.
Oyatori ga michi no magari kaku made kite miru to, soko o aruite iru no wa raion deshita.
Miso sazai wa raion wo osoremasen deshita. Raion no se naka ni mai orite, "Nanno yō ga ate uchi ni kite kodomotachi o kowa ga rasetari shitanda?!" to raion o shikari hajimemashita.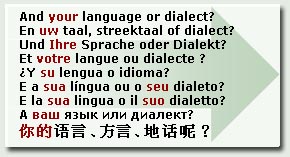 Raion wa shiranu kao o shite aruki tsudukemashita.

Soko de kono chīsana hana tsu hashira no tsuyoi tori wa, raion wo issō hageshiku najirimashita. "Omae wa konna tokoro ni kuru riyū wa nainda, wakattaka! Moshi, matayatte kuru yō na koto ga attara, me ni mono o mise te yaru! Konna koto wa hontō hashita kunainda ga" to ii nagara, oyatori wa hen ashi o agemashita. "Sore de mo, matayatte kitara, kono ashi de atto iu mani omae no senaka o e shi otte yaru!"

Sō itte oyatori wa su ni tonde kaerimashita.

"Sāsā, kodomotachi, mō daijōbu da yo. Aitsu ni wa yoku iikikaseteyatta kara ne. Mō modotte kuru koto wa nai yo." to chichioya wa iimashita.