Ligurian
---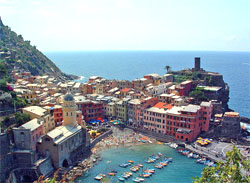 The Italian town of Vernazza (Ligurian
Vernassa
), one of the pearls along the Ligurian Coast that reaches west from there to Nice (Ligurian
Nissa
) and Monaco (Ligurian
Monego
) in what is now southeastern France
Language information: Ligurian is a Romance language of the Gallo-Italian group. It is the inigenous language of Liguria (Ligurian Ligûria, in today's Northwestern Italy) and independent language among those historically derived from Latin with the development of their own features.
It is unknown if the Modern Ligurian language is in any way related to or influenced by the nowadays poorly known Ancient Ligurian language (used in the first millennium BCE), a language that seems to have shared features with both Celtic (specifically Gaulish) and Romance (specifically Latin and the Osco-Umbrian).
Modern Ligurian is used mostly in Italy (Liguria, Southern Piedmont and Southwestern Sardinia), Southeastern France, some localities in Corsica, the Principality of Monaco (in the Monegasque variety [Ligurian Munegascu], influenced by French, which is official there), and certain places in which Ligurian emigrants settled, such as in Argentina, Uruguay, Peru, Chile, Australia, the United States, and Canada.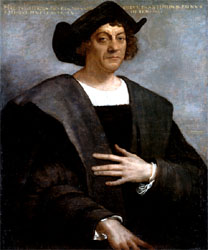 The supposed discoverer of the Americas and one of the most famous Ligurians is Christopher Columbus (Ligurian

Cristoffa Cömbo

or

Cristoffa Cumbo

, Italian

Cristoforo Colombo

, Spanish

Cristóbal Colón

). He was born and raised in Genoa, though none of his extant writings are in the Ligurian language.

Ligurian is widely known as Zenéize (meaning "Genoese"), since the variety of the city of Genoa (Ligurian Zena, Italian Genova) has always been the most widespread and the one with the strongest literary traditions, besides its worldwide fame as a nautical language in the time of the Republic of Genoa, when even people living in towns far from the capital city called themselves Genoese.
Despite the fact that they all belong to the same linguistic branch due to their common characteristic evolution since their origin in Latin; there are even within today's Liguria certain dialectal varieties which represent cultural treasures within the region. It is in that context that we may define Genoese as being a dialect of the Ligurian language, rather than a degeneration of what we know as Italian (which is essentially Tuscan). Besides the characteristic varieties of downtown Genoa, there are the varieties of Savona (Ligurian Sànn-a), La Spezia (Ligurian Spèza), Ventimiglia (Ligurian Vintimille), as well as transitional varieties that are more closely related to Piedmontese.
There are dictionaries, grammars and projects dedicated to this language, and nowadays, despite the various spelling rules used in past centuries, the Ligurian language now has an official orthography (grafîa ofiçiâ) developed by the Académia Ligùstica do Brénno, which respects some aspects of traditional orthography but also eradicates ambiguities since it represents the exact pronunciation of each word.

Genealogy: Indo-European > Romance > Italo-Western > Gallo-Italian > Ligurian
---
Click to open the translation: [Click]

---
Authors: A. Gazzano & Reinhard F. Hahn

Ligurian-related links: