Maltese
---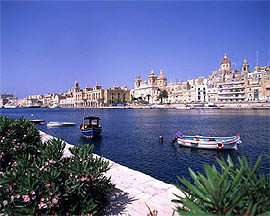 Malta, home of an Arabic language variety that survived
numerous occupations and has been transformed by
influences from Italian and other languages.
Language information: Maltese is the first language of most Maltese people. In Malta, it is the national language, official besides Italian and English. Maltese is used in other countries as well, particularly in Australia, Canada, Italy, Tunisia, the United Kingdom, and the USA, being used as a broadcasting language for instance in Australia.
The history and composition of Maltese is highly complex. Its basis is North African Arabic, and it has retained most of this specific Semitic structure despite numerous other influences. Because of its strong Arabic base, Maltese is often referred to as "Maltese Arabic." However, Maltese uses an augmented version of the Roman alphabet rather than a Semitic script.
Having been inhabited since about 5200 B.C.E., what is now the country of Malta—consisting of the main islands Malta and Gozo—has been a crossing point for numerous nations and cultures for many centuries. Phoenicians, Greeks, Carthaginians, Romans, North African Arabs, Sicilian Normans, Aragonians, the militant Order of Knights of the Hospital of St. John of Jerusalem, France and Great Britain have occupied it at one time or another. With this came the strong establishment of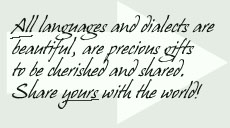 Roman Catholic Christianity and numerous cultural and linguistic influences, the strongest among them being Sicilian, Italian, French and English.
Most Maltese people are proficient in English, and many of them speak Italian as well. Their multicultural and multilingual background as well as their nation's history of occupations makes them, generally speaking, very adaptable and open-minded. This will be very helpful for this new and smallest member nation in playing an important role within the European Union.
Genealogy: Afro-Asiatic > Semitic > Central > South > Arabic > Maltese
Historical Lowlands language contacts: English
---
Click to open the translations: [Click]

---
Author: Reinhard F. Hahn