Maori
---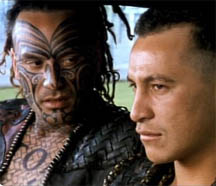 A scene from the 1994 film
Once Were
Warriors
—Will the Maori language live on
beyond performances of traditional culture?
Language information: Maori is the language of Aotearoa (New Zealand), now a native minority language under predominantly English-speaking European-derived domination. It tends to be referred to by its native name Te Reo (Māori) by people in New Zealand, even when not speaking Maori.
Māori simply means "native," historically "ordinary" or "normal." This word is related to Rapa Nui maori, Rarotongan māori, Hawai'ian maoli, and Tahitian maohi. In some parlances, "Maori" has come to refer to "Polynesian" in general, such as in the name "Cook Islands Maori" (Māori Kūki 'Āirani) for "Rarotongan," the people, culture and language of the Cook Islands.
Maori is, together with its closest relative Moriori of Rekohu/Wharekauri (Chatham Islands), the southernmost Polynesian language, being situated at the bottom of the large "Polynesian Triangle."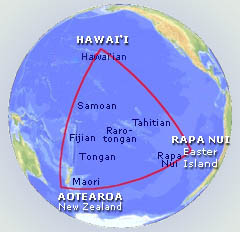 The Polynesian Triangle with the best-known
languages marked
Thanks to the extraorinary maritime migration of their ancestral speakers, the Polynesian languages, and certainly the Austronesian family to which they belong, constitute the world's language group that is geographically most widespread across water.
Maori language loyalty dwindled under unfavorable conditions, and most ethnic Maori are now native English speakers.
In recent decades, interest in, respect for and appreciation of Maori heritage as a national treasure and a key aspect of New Zealand's national identity have favored progress in Maori language resurgence and assertion.
The translator has adapted the story to traditional New Zealand. A grey warbler (riroriro) takes the role of the wren, and a dog (kurī) takes the role of the lion, since wrens and lions are not native to the land of the Maori people.
Genealogy: Austronesian > Malayo-Polynesian > Central > Eastern > Oceanic > Remote > East Fijian-Polynesian > Polynesian > Nuclear > East > Central > Tahitic
Historical Lowlands language contacts: English
---
Click to open the translations: [Click]

---
Author: Reinhard F. Hahn