Hawaiian
---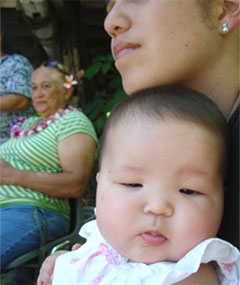 Now the language of a small indigenous minority,
will Hawai'ian continue to be passed down beyond
tourist shows and slack-string guitar songs?
Language information: Hawaiian (or Hawai'ian) is known natively as 'Ōlelo Hawai'i ("Hawaiian Speech," pronounced "ohlelo hava'ee"). It is also known as 'Ōlelo Hawai'i Makuahine ("Hawaiian Mother Speech"). Sometimes it is simply called 'Ōlelo ("Speech"), also in other languages used by people on or from the Hawaiian Islands, much like various New Zealanders refer to Maori as Te Reo ("The Language") among themselves.
Although it is the indigenous language of the Hawaiian Islands (formerly known as "Sandwich Islands"), now a US state, the number of speakers of Hawaiian is now small, currently 0.1% of the population of Hawaii. Most of this drop occurred between the 1830s and the 1950s and was mostly due to lack of support in combination with massive immigration from the American mainland states as well as from numerous other countries. Lately, there have been claims that use of Hawai'ian was outlawed for some time.
Both in Hawaii and elsewhere, most people that are of partly Hawaiian descent do not learn or maintain the language, and many people that are genealogically fully Hawaiian do not do so either as they come to be overwhelmed by the rapid spread of a predominantly English-speaking world on their ancestral land. Economic needs draw many of them to Honolulu, to other cities and to tourist centers where most of the little Hawaiian that can be heard is heard within the context of entertainment.
These days, the predominant everyday languages of ethnic Hawaiians, as of many citizens of other ethnic backgrounds, are Standard English and Hawaii English for formal use and, for informal use, Hawaii Creole English (commonly known by the misnomers "Hawaii Pidgin English" and "Pidgin").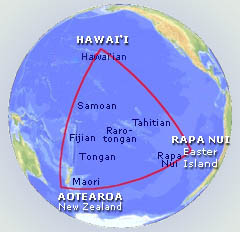 The Polynesian Triangle with the best-known

languages marked

However, Hawaiian remains the primary language of currently approximately two hundred indigenous Hawaiians on Ni'ihau, Hawaii's smallest inhabited island (often referred to as "the Forbidden Island") that serves as an indigenous reserve and is off limits to outsiders. It needs to be seen if isolating a tiny enclave will be sufficient to secure the future of Hawaiian language and culture as has been claimed.
The Hawaian variety of Niihau is somewhat specific. It seems to be phonologically more conservative, which is apparent in its "fleeting t," namely retention of [t] in certain words, while in other varieties the shift of t to [k] is consistent. Retention of t appears to be found in kinship terms, including quasi kinship terms, such as in tūtū (elsewhere kūkū) 'grandparent', keiti (elsewhere keiki) 'child' and Atua (elsewhere Akua) 'God'.
Interest in the Hawaiian language and rediscovery of the rich heritage with which it is associated has been increasing lately, irrespective of ethnic background. New Hawai'ian resources and learning opportunities have been created, including the Ka Haka 'Ula O Ke'elikōlani (College of Hawaiian Language), a branch of the University of Hawaii (Kulanui o Hawai'i) at Hilo. Foremost among examplary online efforts are Ulukau : The Hawaiian Electronic Library and Kulāiwi (electronic Hawaiian language distance learning). It is to be hoped that among those taking advantage of these opportunities there are those with purposes that will benefit the language beyond tourist entertainment and ethnic tokenism.

Hawai'ian is one of the Polynesian languages. Thanks to the extraorinary maritime migration of their ancestral speakers, the Polynesian languages, and certainly the Austronesian family to which they belong, constitute the world's language group that is geographically most widespread across water.
Although there are no ancient recorded Polynesian texts, comparison of the widely scattered Polynesian languages of today reveals numerous phonological and semantic shifts that have occurred during past centuries. This enables us to study genetic relationships among member languages and identify changes within each of them, and it furthermore enables us to hypothetically reconstruct proto-Polynesian word forms. Such studies show that Hawaiian phonology has undergone possibly the most extreme changes, closely followed by its relatives within the Marquesic group (Marquesan languages, Mangarevan and Puka-Puka of French Polynesia), also by those of the Rapan and Tahitic groups. The examples below (with generalized spelling) may serve to illustrate some of the most notable Hawa'ian feature is a greatly simplified consonant inventory.
Hawai'i

Raro-
tonga

Tahiti

Rapa
Nui

Tonga

Samoa

laugh:

'aka

kata

'ata

kata

kata

kata

kata

bad:

'ino

kino

'ino

ekēno

kino

inside:

loko

roto

i roto

i roto

roto

'i loto

person:

kanaka

taŋata

ta'ata

taŋata

taŋata

taŋata

taŋata

sky:

lani

raŋi

ra'i

raŋi

raŋi

laŋi

laŋi

star:

hōkū

'ētū

feti'a

φetū

hetu'u

fetu'u

fetū

fire:

ahi

aì

auahi

ahi

afi

afi

afi

one:

kahi

taì

tahi

tahi

tahi

taha

e tasi

breast:

ū

ū

ū

ū

u'u

huhu

susu
Genealogy: Austronesian > Malayo-Polynesian > Central-Eastern > Eastern > Oceanic > Central-Eastern > Remote > Central Pacific > East Fijian-Polynesian > Polynesian > Nuclear > East > Central > Marquesic
Historical Lowlands language contacts: English
---
Click to open the translations: [Click]

---
Author: Reinhard F. Hahn