Low Saxon ("Low German")
Generalized Northern Low Saxon
This is a transliteration of the oldest extant version of this tale, the original source of all translations presented here.
---
Listen to this version narrated by Reinhard F. Hahn:
Listen to this version narrated by Uwe Tychsen:
Author: Wilhelm Wisser
Narration: Reinhard F. Hahn & Uwe Tychsen (License)
Transliteration: Reinhard F. Hahn (License)
Location: Seattle (USA) & Neustadt, Holstein (Germany)
Language information: [Click]

---

[German Spelling
] [AS Spelling]
---
Dey tuunkruyper

Reinhard F. Hahn

Uwe Tychsen
Dey tuunkruyper het syn nest in 't wagenschuur hat.
Nu sünd dey olden bayd' maal uut-vlagen west. Sey hebt voer eer jungen wat tou leven halen wuld un hebt dey lütten ganss alleyn laten.

Na 'n tydlang kümt dey old wedder tou huus'.

"Wat 's hyr passeyrd?" segt hey. "Woukeyn het ju wat daan, Kinder? Jy sünd je ganss verschüchterd!"

"Och, Vadder", segt sey, "hyr koym even so 'n groten buman voerby. Dey seyg' so boys' un schruterig uut! Dey gluup mit syn groten ogen na uns nest herin. Daar hebt wy uns so voer verveyrd!"

"So", segt dey old, "woneven is hey den af-bleven?"

"Ja", segt sey, "hey is daar herümmer gaan."

"Toev!" segt dey old, "Den wil ik na. Weest jy man stil, Kinder! Den wil ik krygen." Daar mit vlügt hey je na.

As hey üm dey ek kümt, do is dey loyv' dat. Dey gayt daar helang.

De tuunkruyper is aver ne vervraren. Hey sett sik up d'n loyven syn rüg hen un vangt 'n schelden an. "Wat hest du by myn huus tou doun," segt hey, "un myn lütten kinder tou verveyren?!"

De loyv' keyrt sik daar gaar ne an un gayt syn gang.

Do wardt hey noch duller schimpen, de lüt kroetsak.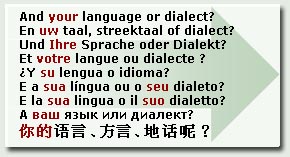 "Du hest daar gaar niks verlaarn, wi' 'k dy man seggen! Un kümst du wedder", segt hey, "den schast man maal seyn! Ik mag 't man ne doun", segt hey, un daar mit boyrt hey syn eyn beyn in end, "süst ped ik dy vourts d'n rüg in!"

Darup vlügt hey wa' trüg na syn nest hen.

"So, Kinder", segt hey, "den he' 'k dat af-leyrd. Dey kümt ne wedder."