---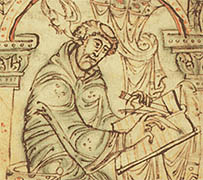 Monastic author and scholar Bede ("The
Venerable," ca. 672–735) was a native
speaker of Northumbrian Old English.
Language information: If Northumbrian is an English dialect group or a language in its own right remains a matter of debate. Most British people think of it as a very distinctive English dialect group, mostly because it is closely related to English and is used in the country of England. However, most English speakers without extensive exposure to it do not understand Northumbrian very well, at least not its spoken forms, while it is more readily accessible for speakers of Scots, with which it shares many lexical and phonological features. Like Scots, Modern Northumbrian descended from Old Northumbrian, a particularly Celtic-influenced dialect group of Old English.
Being situated where Northeastern England's Northumberland (Northumbria) meets Southeastern Scotland (at Hadrian's Wall of Roman times), its northernmost dialects border on Borders Scots, the southernmost dialect group of Scots.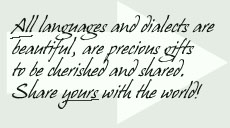 It can be argued that there are remnants of a dialect continuum between them.
Northumbrian tends to be associated with the "Geordie" dialects of Newcastle and Tyneside. There is much to be said for regarding all of them as being one Northumbrian group, although the Geordie dialects of the large industrial centers have undergone more outside influences than have other Northumbrian dialects. While most locals tends to use the name "Geordie" in a place-specific way, people elsewhere tend to use it to refer to all Northumbrian dialects and their speakers.
Genealogy: Indo-European > Germanic > Western > Anglo-Scots > Northumbrian
Historical Lowlands language contacts: English, Dutch, Flemish, Scots
---
Click to open the translation: [Click]

---
Author: Reinhard F. Hahn