Nordollenborger Platt
Low Saxon ("Low German")
Northern Oldenburg
---
Listen?

Translation and Narration: Gerhard Willers
Location: Oldenburg (Germany), originally Wilhelmshaven, Germany
"I learned Nordoldenburg Platt as a young child while playing with other Nordoldenburg Platt speaking young children (native speakers) during school holidays and weekends in the 1940s at Ohmstede, which was a very rural part of the town of Oldenburg at that time."
"NB: My cousin, who and was born and raised at Ohmstede, still lives there and is a North Oldenburg Low Saxon native speaker, kindly read my draft and corrected it where necessary, but he does not want to be mentioned."
Facilitation: Renate Willers, Oldenburg, Germany
Heike Willers, Cologne, Germany
Transliteration: Reinhard F. Hahn, Seattle, USA
Language information: [Click]


with the translator's footnotes about this language variety
---

[German Spelling] [Dutch Spelling] [AS Spelling]
---
Dèi kortjan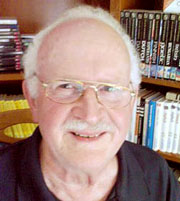 Dèi kortjan haar zien nest in'n waogensjóppen. Maol wèirn dèi öllern baaide oetvlaogen. Zèi wóllen veur ere jóngen wat tòu vreten haolen ón haan ere lütjen gaans allèin laoten.
'n Beten laoter kèim Vadder Kortjan woller naor hoes'.
"Wat is den hier passèird?" ze hèi. "Wel het jòu wat daon? Jie zeet jao gaans baanghaftig ón verdadderd oet."
"Och, Vadder," zeen zèi. "Hier is jóst zo 'n groten boemaan veurbiekaomen. Dèi zèig' zo buiz ón grezig oet; ón hèi gloepde mit ziene groten ogen in oes nest rin. Daor hebt wie oes zo veur verjaogd."
"Och, zo!" ze dèi ool, "Waor is hèi den afbleben?"
"Jao," zeen zèi, "Hèi is daor laangs gaon."
"Töövt!" ze dèi vadder, "Daor wil ek achter ran. Jie broekt gaor nich bang tòu ween, kinner. Den wil ek wol kriegen." Ón hèi vlòug' em ook vòurns naor.
As hèi óm dèi ek kèim, daor wèir dat dèi luiw' dèi daor laangs góng.
Maan, dèi kortjan wèir aober gaans ón gaor nich baang. Hèi zetde zik op den luiw'zien rug daol ón vóng aan op em tòu sjimpen: "Wat hest doe bie mien hoes tòu dòun" ze hèi, "ón miene lutjen kinner zo baang tòu maoken?"
Aober dèi luiw'sjèirde zik daor nich aan ón góng èinvach zienen pad wieder.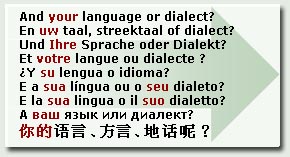 Daordeur kèim dèi kortjan aober noch mèir in bras, dèi lutje drieste kèirl, ón vóng aan den luiw' aan tòu bölken. "Doe hest bie mien nest euverhaaupt niks tòu zuiken. Dat wil ek die maan zeggen. Ón wen doe doch woller kómst, den sjast doe wat beleven! Ek mag dat jao èigenlich nich dòun," ze hèi, ón hèi heevde èin van siene lütjen bèin hoog, "den ped ek die vòurns den rug twaai."

Daornaor vlòug hèi woller terug naor zien nest.

"Zo, kinner," ze hèi, "den hev ek 't aober geven. Dèi kómt nich woller."