Ossenbrügger Plat
Westphalian Low Saxon
Osnabrück Dialect
---
Listen to this translation narrated with near-native pronunciation:
Translation and Narration: Joachim Kreimer-de Fries
Location: Berlin (Germany), raised in Osnabrück (Ossenbrügge), Lower Saxony (Germany)
Orthography: in part based on K.-W. Kahl (Click on "Orthography" in the left frame, third line.)
Language information: Westphalian Low Saxon is one of the varieties of the Low Saxon language, spoken in the German region of Westfalen (Westphalia). Some of the dialects on the Netherlands side of the border in that region might be classified Westphalian. [Click here for more.]

[Another translation in this dialect]
---

[German Spelling] [Dutch Spelling]
---
De Niëtelküöning
De Niëtelküöning häw syn Nest in ene Wagenschuur hat. Nu sint de Aulen beyde maul uutfluogen wiäsen – se häwwet för iäre Jungen wat to iäten halen wolt – un häwwet de Lütken gans alleyn lauten.
Nau ene Tydlang kümp de Aule wier to Huus.
"Wat is dän hier blaut passeert?" frog he. "Wär häw ju wat doun, Kinner? Ji sint jäe gans verschüchtert."
"Aoch, Vaer", anferet se, "hier kwaymp iäben sau en grauten laygen Kärel vörbi. De saoch sau bäüse un schuderig uut. De glupkede met sine grauten Augen nau uset Nest rin. Dao häwwet wi us sau för verfärt."
"Sau", seg de Aule "waorniäwen is he dän afbliëwen?"
"Jau", segget se, "he is daor herümme goun."
"Töuwet!" seg de Aule, "dän wil ik nau. Syt ji män stil, Kinner! Dän will ik krigen." Daormet flüg he em nau.
As he ümme dat Houk kümp, daor is dat de Löwwe, de geyt daor lank.
De Niëtelküöning is män nich verfärt. He set sik up dän Löwwen syn Rügge hän un fangt eyn Schännen an. "Wat häs du bi myn Huus to doun", rop he, "un mine lütken Kinner to verfärn?"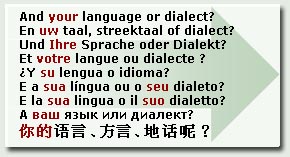 De Löwwe kärt sik dao gar nich an un geyt sinen Gang.

Daor wärt he noch duller schimpen, de lütke Kratssack. "Du häs dao gar niks verluaren, wi'k di man seggen! Un küms du wier", seg he, "dän sas män maul seyn! Ik mag et eygentlik nich doun", seg he – un daormet treckt he eyn syn Beyn in de Höügte –, "süs pedd'ik di up de Stie dän Rügge in!"

Daorup flüg he wier torügge nau syn Nest hän.

"Sau, Kinner", seg he, "dän häww' ik dat afläërt. De kümp nich wier."