Ossenbrügger Plat
Westphalian Low Saxon
Osnabrück Dialect
---
Listen to this translation narrated with near-native pronunciation:
Translation and Narration: Joachim Kreimer-de Fries
Location: Berlin (Germany), raised in Osnabrück (Ossenbrügge), Lower Saxony (Germany)
Transliteration: Reinhard F. Hahn
Language information: Westphalian Low Saxon is one of the varieties of the Low Saxon language, spoken in the German region of Westfalen (Westphalia). Some of the dialects on the Netherlands side of the border in that region might be classified Westphalian. [Click here for more.]

[Another translation in this dialect]
---

[German Spelling] [Dutch Spelling]
---
De niëtelkuönînk
De niëtelkuönînk hêw zien nest în eeine wagenschoer hat. Noe zînt de aaulen beeide maaul oetvloögen wiêzen – ze hêwwet veur iêre jongen wat tou iêten halen wolt – oen hêwwet de lutken gaants alleein laauten.
Naau eeine tiedlaang kump de aaule wier tou hoes.
"Wat is dên hiêr blaaut passeeird?" vrog he. "Wêr hêw joe wat dooun, kînner? Ji zînt jêe gaans verschuchterd."
"Aoch, Vaër", aanferet ze, "hier kwaaimp iêben zaau eein graauten laaigen kêrel veurbie. De zaog zaau bêuse on schoederig oet. De gloepkede met ziene graauten aaugen naau oezet nest rîn. Dao hêwwet wie os zaau veur vervêrd."
"Zaau", zeg de aaule "waorniêwen is he dên afbliëwen?"
"Jaau", zegget ze, "he is daor herumme gooun."
"Tuiwet!" zeg de aaule, "dên wil ik naau. Ziët ji mên stîl, kînner! Dên wîl ik kriëgen." Daormit vloig he em naau.
As he umme dat hoouk kump, doar is dat de löwwe, de geeit daor laank.
De niëtelkuönînk is mên nich vervêrd. He zet zik oep den löwwen zien rugge hên on vaangt een schênnen aan. "Wat hês doe bie mien hoes tou dooun", rop he, "oen miene lutken kînner tou vervêrn?"
De löwwe kêrt zik dao gar nich aan oen geeit zienen gaang.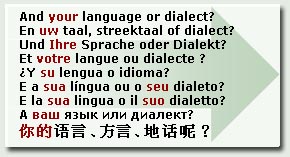 Doa wêd he noch doller schimpen, de lutke kratszak. "doe hês daor gar niks verloären, wî' 'k die mên zeggen! On kûms doe wier", zeg he, "dên zas mên maaul zeein! Ik mag et eeigentlik nich doen", zeg he – on daormet trekt he eein zien beein in de huigte –, "zus ped' ik die op de stiehe dên rugge în!"

Daoroep vlug he wier trugge naau zien nest hên.

"Zaau, kînner", zeg he, "dên hêww' ik dat aflêërd. De kump nich wier."