Oostfreesk
Low Saxon ("Low German")
Northern (Low) Saxon Variety of Eastern Friesland
---
Listen to this translation narrated with native pronunciation:
Translator: Holger Weigelt
Narrator: Holger Weigelt
Location: Eastern Friesland (Germany)
Transliterator: Reinhard F. Hahn, Seattle & San Francisco (USA)
Language information: Eastern Friesland Low Saxon is one of the varieties of the Low Saxon language, spoken in the German region Eastern Friesland (Ostfriesland). It is one of the dialect groups with Frisian substrates (like Low Saxon of Stellingwerf and Groningen). [Click for more.]
---

[German Spelling]
[Weigelt Spelling] [AS Spelling] [Phonetic]
---
Dey tuun-kruper
Dey tuun-kruper har syn nüst in d' wagen-schuyr. Ins wassen dey baid olden uut-vlogen. Sey wullen dey jungen wat tou voren krygen un harren dey lütjen lyv-alleyn laten.

Achter 'n set kumt dey old' weer in huus.

"Was is d'r hyr gebört?" segt hey. "Wel het jou kwaads daan, kinder? Jy bünt ja heyl un dal verjagd!"

"Och, vader (vaer)," seggen sey daar, "hyr kwam juyst so 'n baldadergen belmer langs. Dey let d'r so kwaad un gryselk van of! Dey luurd' mit syn grood ogen tou us nüst in, dat wy us d'r so leyp verveerden."

"So?", seed' dey old', "Waar is hey dan bleven?"

"Hey is dey kant an-gaan!", seggen sey.

"Toyvt eyts!", segt do dey old', "dey schal ik na! Bydaart jou man, kinder! Dey schal 'k wal krygen."

Dan vlügt hey d'r achter tou.

Do hey um 't houk tou kumt word h' gewaar: dat is 'n lööw, dey daar lang gayt.

Man dey tuun-kruper maakt sük neyt bang. Hey daalt up dey lööw syn rüg un vangt an 't schellen: "Wat dayst du by myn huus un verveerst myn kinder?"

Dey lööw brant sük daar heyt neyt um un gayt syn pad.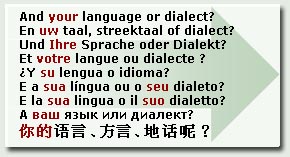 Do schalt 't no veller, dat dryst keerlke: "Du hest daar neyts ni' verloren! Dat seg ik dy. Un wult du weer-komen, dan schalst 't maal seyn! Van rechtens mag ik 't neyt doun," segt hey un tylt syn beyntje um hoog, "anners wul 'k dy d' rüg verneylen."

Un sluupsteerts vlügt hey weer up syn nüst an.

"So, kinder," segt hey, "Dey heb ik 't by-meten. Dey kumt neyt weer."