Please click here to leave an anniversary message (in any language you choose). You do not need to be a member of Lowlands-L to do so. In fact, we would be more than thrilled to receive messages from anyone.
Click here to read what others have written so far.




What's with this "Wren" thing?
The oldest extant version of the fable we are presenting here appeared in 1913 in the first volume of a two-volume anthology of Low Saxon folktales (Plattdeutsche Volksmärchen "Low German Folktales") collected by Wilhelm Wisser (1843–1935). Read more ...


| | | |
| --- | --- | --- |
| | | |

Oostfreesk
Low Saxon ("Low German")
Northern (Low) Saxon Variety of Eastern Friesland
---
Listen to this translation narrated with native pronunciation:
Translator: Holger Weigelt
Narrator: Holger Weigelt
Location: Eastern Friesland (Germany)
Language information: Eastern Friesland Low Saxon is one of the varieties of the Low Saxon language, spoken in the German region Eastern Friesland (Ostfriesland). It is one of the dialect groups with Frisian substrates (like Low Saxon of Stellingwerf and Groningen). [Click for more.]
---

[German Spelling]
[Weigelt Spelling] [AS Spelling] [Phonetic]
---
Däi tûnkrūper
Däi tûnkrūper hār sīn nüst in d' wógensğüer. Ins wassen däi bāid ollen ūtflōgen. Säi wullen däi jungen wat tau fōren krīgen un hārren däi lütjen līfaläien lóten.

Achter 'n set kumt däi oel wēer in hūs.

"Wat is d'r hier gebööert?" säeğt häi. "Wel het jau kwóds dón, kinner? Jī bünt ja häil um dal ferjağt!"

"Och, fó(d)er," säegen säi dor, "hier kwam jüüst sō 'n baldóderğen belmer langs, däi lēt d'r sō kwód un ğrīselğ fan of! Däi luerd' mit sīn grôd ōgen tau us nüst in, dat wī us d'r sō läip ferfēerden."

"Sō?" sē däi oel, "wor is häi dan blēven?"

"Häi is däi kânt angón!" säegen säi.

"Töywt äits!" säeğt dō däi oel, "däi sğal ik nó! Bīdoert jau man, kinner, däi sğal 'k wal krīgen."

Dan flüğt häi d'r achter tau.

Dō häi um 't hauk kumt word h' gewoer: dat is 'n lööew, däi dor langs gājt.

Man däi tûnkrūper mókt sük näit bāng. Häi dólt up däi lööew sīn rüeğ un fāngt an t' sğellen: "Wat dājst dū dī mīn hūs un ferfēerst mīn kinner?"

Däi lööew brānt sük dor häil näit um un gājt sīn pad.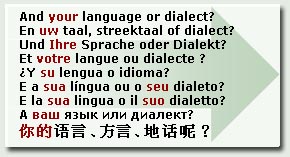 Dō sğäelt 't no feller, dat drîst kēerlke: "Dū hest dor näits ni ferlōren, dat säeğ ik dī, un wult dū wēerkōmen, dan sğalst 't mól säin! Fan rechtens mağ ik 't näit daun," säeğt häi un tielt sīn bäintje amhōğ, "anners wul 'k dī d' rüeg fernäilen."

Un slūpstēerts flüğt häi wēer up sīn nüst an.

"So, kinner," säeğt häi, "däi heb ik 't bīmēten. Däi kumt näit wēer."



© 2011, Lowlands-L · ISSN 189-5582 · LCSN 96-4226 · All international rights reserved.
Lowlands-L Online Shops: Canada · Deutschland · France · 日本 · UK · USA









Please click here to leave an anniversary message (in any language you choose). You do not need to be a member of Lowlands-L to do so. In fact, we would be more than thrilled to receive messages from anyone.
Click here to read what others have written so far.





What's with this "Wren" thing?
The oldest extant version of the fable we are presenting here appeared in 1913 in the first volume of a two-volume anthology of Low Saxon folktales (Plattdeutsche Volksmärchen "Low German Folktales") collected by Wilhelm Wisser (1843–1935). Read more ...

| | | |
| --- | --- | --- |
| | | |




Oostfreesk

Low Saxon ("Low German")
Northern (Low) Saxon Variety of Eastern Friesland

---

Listen to this translation narrated with native pronunciation:

Translator: Holger Weigelt

Narrator: Holger Weigelt

Location: Eastern Friesland (Germany)

Language information: Eastern Friesland Low Saxon is one of the varieties of the Low Saxon language, spoken in the German region Eastern Friesland (Ostfriesland). It is one of the dialect groups with Frisian substrates (like Low Saxon of Stellingwerf and Groningen). [Click for more.]

---

[German Spelling] [Weigelt Spelling] [AS Spelling] [Phonetic]

---

Däi tûnkrūper

Däi tûnkrūper hār sīn nüst in d' wógensğüer. Ins wassen däi bāid ollen ūtflōgen. Säi wullen däi jungen wat tau fōren krīgen un hārren däi lütjen līfaläien lóten.

Achter 'n set kumt däi oel wēer in hūs.

"Wat is d'r hier gebööert?" säeğt häi. "Wel het jau kwóds dón, kinner? Jī bünt ja häil um dal ferjağt!"

"Och, fó(d)er," säegen säi dor, "hier kwam jüüst sō 'n baldóderğen belmer langs, däi lēt d'r sō kwód un ğrīselğ fan of! Däi luerd' mit sīn grôd ōgen tau us nüst in, dat wī us d'r sō läip ferfēerden."

"Sō?" sē däi oel, "wor is häi dan blēven?"

"Häi is däi kânt angón!" säegen säi.

"Töywt äits!" säeğt dō däi oel, "däi sğal ik nó! Bīdoert jau man, kinner, däi sğal 'k wal krīgen."

Dan flüğt häi d'r achter tau.

Dō häi um 't hauk kumt word h' gewoer: dat is 'n lööew, däi dor langs gājt.

Man däi tûnkrūper mókt sük näit bāng. Häi dólt up däi lööew sīn rüeğ un fāngt an t' sğellen: "Wat dājst dū dī mīn hūs un ferfēerst mīn kinner?"

Däi lööew brānt sük dor häil näit um un gājt sīn pad.

Dō sğäelt 't no feller, dat drîst kēerlke: "Dū hest dor näits ni ferlōren, dat säeğ ik dī, un wult dū wēerkōmen, dan sğalst 't mól säin! Fan rechtens mağ ik 't näit daun," säeğt häi un tielt sīn bäintje amhōğ, "anners wul 'k dī d' rüeg fernäilen."

Un slūpstēerts flüğt häi wēer up sīn nüst an.

"So, kinner," säeğt häi, "däi heb ik 't bīmēten. Däi kumt näit wēer."



© 2011, Lowlands-L · ISSN 189-5582 · LCSN 96-4226 · All international rights reserved.
Lowlands-L Online Shops: Canada · Deutschland · France · 日本 · UK · USA