Oostfreesk, Hinteraner Platt
Low Saxon ("Low German")
Northern (Low) Saxon Variety of Hinte, Eastern Friesland
---
Listen?

Translation: Martina Kuhnke
Location: Hinte, Eastern Friesland (Germany)
Facilitation: Gerhard & Renate Willers, Oldenburg (Germany)
Transliteration: Reinhard F. Hahn, Seattle, USA
Language information: Eastern Friesland Low Saxon is one of the varieties of the Low Saxon language, spoken in the German region Eastern Friesland (Ostfriesland). It is one of the dialect groups with Frisian substrates (like Low Saxon of Stellingwerf and Groningen). The town of Hinte is located near the border between Eastern Friesland (and thus Lower Saxony) on the German side and the province of Groningen on the Netherlands side. [Click for more.]
---

[Regularized German Spelling] [ German Spelling] [AS Spelling]
---
De Knüüt
De Knüüt harr sien Nüst in't Schküür. Eenmaal wassen de Ollen beid' utflogen. Se wull'n wat halen, um de Jungen to futtern, un se harrn de Lüttjen heel alleen laten.
Kört Tied later kwamm de Vader wäär.
"Wat is hier passeert?" froog he. "Well hett jau wat daan, Kinner? Ji sünd ja heel verdattert!"
"Och, Vader!" sään se, "Hier kwamm nett een grote Busabella vörbi. De sach heel düll un schrickelt ut! He keek mit sien groot Ogen in uns Nüst rin. Daarvan hem wi uns verfehrt."
"Oha!" sä de Oll, "Waar is he denn bläven?"
"Ja," sään se, "he is daar langs gahn."
"Wacht," sä de Oll, "De will ik na. Bedoort jau, Kinner. De will ik kriegen." Dann flatter he achteran.
As he um de Hook kwamm, was dat een Lööw', de daar langs gung.
De Knüüt harr keen Angst. He sett sük up de Rügg van de Lööw' un fung düchtig an to schkell'n. "Wat hest du bi mien Huus to söken," sä he, "un mien lüttje Kinner to verfehren?"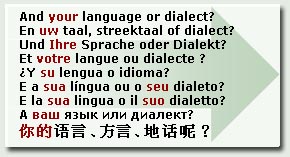 De Lööw' kümmer sük gaar neet un gun' sien Weg.

Dau schkull he noch mehr, de lüttje driest Keerl. "Gaarnix hest du daar to söken, segg ik di! Un wenn du wäär kummst," se he, "dann kannst du wat beläven! Ik wull dat ja egentlich neet daun," sä he un till een van sien lüttje Benen an, "aber ick kann die d' Rügg mit disse Been tomaal bräken!"

Daarnah flatter he wäär to sien Nüst torügg.

"So, Kinner," sä he, "de hebb ik mien Menen seggt. De kummt noit wäär!"