Oostfreesk, Hinteraner Platt
Low Saxon ("Low German")
Northern (Low) Saxon Variety of Hinte, Eastern Friesland
---
Listen?

Translation: Martina Kuhnke
Location: Hinte, Eastern Friesland (Germany)
Facilitation: Gerhard & Renate Willers, Oldenburg (Germany)
Transliteration: Reinhard F. Hahn, Seattle, USA
Language information: Eastern Friesland Low Saxon is one of the varieties of the Low Saxon language, spoken in the German region Eastern Friesland (Ostfriesland). It is one of the dialect groups with Frisian substrates (like Low Saxon of Stellingwerf and Groningen). The town of Hinte is located near the border between Eastern Friesland (and thus Lower Saxony) on the German side and the province of Groningen on the Netherlands side. [Click for more.]
---

[AS Spelling] [German Spelling] [Regularized Spelling]
---
Dey knuyt
Dey knuyt har syn nüst in 't schuyr. Eyn maal wassen dey olden bayd' uut-vlougen. Sey wullen wat halen um dey jungen tou vuttern, un sey harren dey lütjen heyl alleyn laten.
Kört tyd later kwam dey vader weer.
"Wat is hyr passeyrd?" vroug hey. "Wel het jau wat daan, kinder? Jy sünd ja heyl verdatterd!"
"Och, vader!" seen sey, "Hyr kwam net eyn grote busabella vörby. Dey sag heyl dül un schrikkeld uut! Hey keyk mit syn groot ogen in uns nüst rin. Daar van hem wy uns verveyrd."
"Oha!" se dey old, "Waar is hey den bleven?"
"Ja," seen sey, "hey is daar langs gaan."
"Wacht," se dey old, "Dey wil ik naar. Bedourt jau, kinder. Dey wil ik krygen." Dan vlatter hey achter an.
As hey um dey houk kwam, was dat eyn loyw', dey daar langs gung.
Dey knuyt har keyn angst. Hey set sük up dey rüg van dey loyw' un vung düchtig an tou schellen. "Wat hest du by myn huus tou soyken," se hey, "un myn lütje kinder tou verveyren?"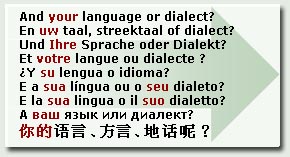 Dey loyw' kümmer sük gaar neyt un gung syn weg.

Dau schul hey noch meyr, dey lütje dryst keyrl. "Gaar niks hest du daar tou soyken, seg ik dy! Un wen du weer kumst," se hey, "dan kanst du wat beleven! Ik wul dat ja eygentlich neyt daun," se hey un til eyn van syn lütje beynen an, "aber ik kan dy d' rüg mit disse beyn toumaal breken!"

Daar naar vlatter hey weer tou syn nüst tourüg.

"So, kinder," se hey, "dey heb ik myn meynen segd. Dey kumt noyt weer!"