---
Listen?

Translator: Fely Salvador
Location: Seattle, Washington (USA), formerly San Carlos, Pangasinan (The Philippines)
Facilitator: Lourdes Maganis, Seattle, Washington (USA), formerly Manila (The Philippines)
Language information: [Click]

---

[Translator's Spelling] [Reformed Spelling] [Baybayin Script]
---
Si Pipit
Si pipit walay abong tod siruman na auto. Nen walalay edad dan matikyab. Inalis ira, tinaynan day sibong da.
Ag nanbayag si ama pipit anenpet ed obong.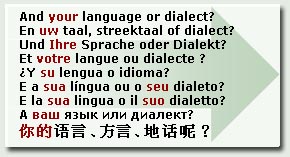 "Antoy agawaan dia?" kuanto, "Siopay nanresgod sikayo anak ko? Masyadoy takot yo."
"Oh, ama," kuanda, "walay baleg ya dambuhala natan labat! Makapataktakot so nengneng to. Ya masubesubeg. Tinakeling to yay obong tayo."
"Ah, ontan!" kuanen ama pipit, "iner so nila to ey?"
"Inmarad ditan ed satan ya dalan." "Alagar kayo!" kuanen ama pipit, "Ta tomboken ko. Ag kayo mapaga anako. Ta usilan ko." Insan tinmekyak.
Nen onsaliwerwer walay lion ya manaakar. Si pipit ag antakot. Dinmado ed beneg nen lion insan to nantameian, "Antoy makasengey ya onlad abong mii ya tinaktakot mo ray anako?"
Agto inemano nen lion – basta manaakar.
Lalon sinmeyodot si masange. "Angapoy makasingag no akin et linma kad man. Ibagad ed sika, no ompawil kad man" – talagan nanengneng mo, mabalekne so beneg mo na sakey ya salek – "Insan tinmekyab, amawel lad obong."
"Anako, binangatan ko na lekyon. Ag lad dia ompawel."