Russkij jazyk
Russian
---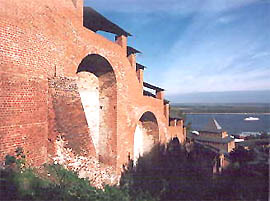 Having joined the Hanseatic Trading League in 1300,
Novgorod on Lake Ilmen witnessed contacts between
the Russian and Middle Saxon languages.
Language information: Russian is not only the native language of the vast majority of ethnic Russians all over the world, but it serves as the native or primary language of many other people, primarily those in or from the former Soviet republics. It serves as a lingua franca throughout Eastern Europe, Northern Asia and Central Asia, and it has variously influenced the languages of those regions. Russian is of particular importance in Israel as well. Next to official Norwegian, Russian is a language of the Norwegian-administered Arctic Ocean island group of Svalbard, especially in the town of Barentsburg.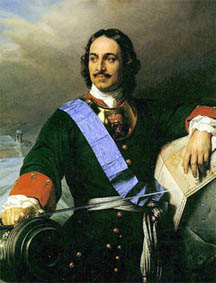 Pyotr Alekseyevich Romanov, Peter the First
or Peter the Great (1682–1725)—a fervent
admirer of the Netherlands' culture and
shipbuilding
In all, worldwide over 160 million persons use Russian as a native language at the present time, and close to 300 million includes these and those who use Russian as a non-primary language.
As a result of a long-standing policy of Russocentric education, Russian has to various extents replaced other languages of the Russian Federation and of former Soviet republics.
Most recently emancipated former Soviet republics are now trying to reverse the repercussions of this history.
Russian is an East Slavic language and is thus most closely related to Ukrainian, Belarusian and Rusyn.
Like other East Slavonic languages, Russian uses the Cyrillic script. It has impressive literary traditions of which particularly numerous 19th-century novels are world-famous.
Genealogy: Indo-European > Slavonic > Eastern> Vladimir-Suzdal
Historical Lowlands language contacts: Dutch, Low Saxon (Middle Saxon)
---
Click to open the translation: [Version 1] [Version 2]

---
Author: Reinhard F. Hahn