Saarland German
---
Listen?

Translator: Larry Granberg
Location: originally Pittsburgh, Pennsylvania (USA), currently Bungerëf/Bigonville/Bondorf (Luxembourg)
Consultant: Willi Coi
Language Information: Two types of dialects are used in Saarland, a German state. Moselle-Franconian dialects, akin to dialects used in Luxembourg and France, are spoken in the northwestern part, while West Palatine Rhine-Franconian dialects are used in the southeastern parts. All of them belong to "Middle German" or "Central German," a band of German dialects situated like a buffer zone between Low Saxon ("Low German") and Low Franconian to the north and Upper German to the south. The variety used here is a Rhine-Franconian one. [Click here for more.]
Genealogy: Indo-European > Germanic > West > High German > German > Franconian > Rhenish
---
De Zaunkeenich

De Zaunkeenich un sei Fraa hann schun immer in der Garasch gewoont. Eemol – die Alde ware grad Futter suche – ware die Kleene ganz alleen.

Wie der Vadder zerick kumm is, guggt er die Kleene aan unn saat: "Ei was iss'n los? Was iss'n passiert?" weil die Kleene ganz wild dorum gehuppst sinn.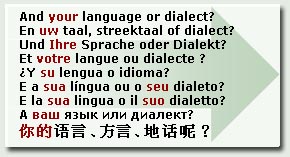 "Ei Babba, grad war e gaanz furschtbares Ding do un hatt uns so eglisch aangeguggt. Do ham mir rischtisch Angscht gritt." "Ei, wo iss'n das Ding hingelaaf?" hat der Alde do gefroot. "Do, die Schtross erunner" hann die Kleene do gesaat.

"Waat's nur ab! Denne do, denne krien isch. Ihr brauche keen Aangscht ze hann" saat der Alde un fliet die Schtrooss erunner, dem Ding hinnerher.

Wie er dann um de Egge kummt, siet er do e Leeb laafe. Ganz ohne Angscht huggt er sich uff dem sei Rigge un fangt aan ze schille: "Was hascht Du dann bei mir dehemm se suche? Meine Kleene Angscht mache? Isch glaab, Du schpinnscht!"

Awwer dem Leeb is die Schreierei ganz egal; der geht eenfach weider.

Do schreit der Alde nur noch mee: "Du hascht bei mir gar nix ze suche. Kumm Du nur noch eemol doher, dann wirscht De sien, was de dofun hascht!"

Dann steht der Alde uff un fliet widder hemm. "So," saat er dann zu seine Kleene, "demm do hann isch's awwer genn. Der lost sich hie niemeh bligge."