---
Translator: Mark Hucko
Location: Switzerland
Facilitator: Ingmar Roerdinkholder
Transliterator: Reinhard F. Hahn
Language information: Slovio is a constructed language with no native speakers. Its creator is Mark Hucko, the translator of this version. Slovio is based on the Slavic languages.
---

[Roman Script]
[Cyrillic Script] [Unicode]
---
Вробец
Вробец гнездовил во гараж. Дин раз, обдва родителис излетили – искатс еда дла потомкис – и оставили онис самйу.
После хвила, Отец Вробец вернул домоф.
"Што случил?" вопросил. "Кто вамс вредил? Ви все ес страх-полнйу!"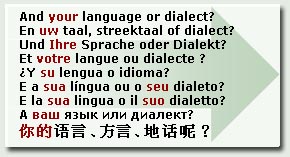 "Ои, Отец," они сказали, "некаи велйу монстр бил тугде тпер. Он бил реалуо ужасйу и страшйу! Он згледил прамуо во наш гнездоф со свои велйу очис и ми статили страх-полнйу!"

"Ли то ес правда?" Отец Вробец вопросил, "гдеф отидил?"

"Он идил тамгдеф."

"Чекайте тугде!" Отец Вробец сказал, "Йа йег бу следит. Не тревогийте. Йа йег бу наидит." После тот он отлетил искат тот монстр.

После первйу поврот видил проходитсйу леов.

Но вробец не имал страх. Пристанил на леоввои хребет и начил йег карат. "Каи право имайш придит ко мои домо и ужасит мои детес?! "

Леов йег игнорил и продолгил проходкат.

Но тпер малйу вробец бил реалуо сердйу. "Имайш никаи право придит ко мои гнездо, и если ти бу вернут," сказал и поднимиал дин нога, "йа бу сломит твои хребет!"

После тот отлетил взад ко свои гнездо.

"Небоиайте детес," сказал, "йа йег поучил. Он бу нигда вернут."