Swedish
---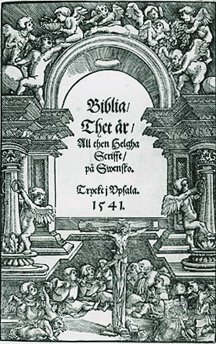 Following Martin Luther's German translation,
the first complete Swedish Bible translation
was published under Gustav Vasa (1496–1560)
in 1540–1541 and is a monument in
Early Modern Swedish.
Language information: Swedish is the native language of the vast majority of Swedish citizens and ethnic Swedes throughout the world. In Sweden, Swedish is the national language and also serves as the second language of all people that grow up with minority languages, not only Finns, Saami ("Lapps"), Roma ("Gypsies") and immigrants but also speakers of Darlecarlian (Dalska, Dalmål), Jamtlandisch (Jamska), Scanian (Skånska) and Gothlandic (Gutniska, Gutamål), groups of varieties that used to be considered parts of Swedish but lately have been asserting themselves as separate languages. Swedish varieties are also used in Finland, especially on Finland's west coast and on the Islands of Åland/Ahvenanmaa. Furthermore, there are sizeable Swedish-speaking communities in Estonia, Norway, Canada and the United States of America. Like all other Scandinavian languages, Swedish underwent massive direct and indirect influences from medieval Saxon (often erroneously referred to as "German influences"), the language of the Hanseatic Trading League. Old Swedish influenced Russian and Ukrainian during the era of the Rus Vikings' reign over parts of Eastern Europe.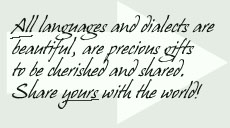 There are also a few traces of Swedish influences in certain Low Saxon dialects of the Baltic Sea coast, hailing from the time of Swedish rule over those areas in the 17th century.
Like Norwegian, Swedish is a tonal language, with a phonemic inventory of two tones that are not represented in writing.
Genealogy: Indo-European > Germanic > Northern > Scandinavian > Eastern > Swedish
Historical Lowlands language contacts: Low Saxon (Middle Saxon)
---
Click to open the translations: [Swedish]

---
Author: Reinhard F. Hahn