Trasjanka
Trasianka
Russian on Belarusian substratum
---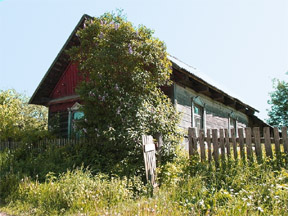 It is within ethnic Belarusian circles, especially in the numerous rural communities of Belarus, that the Belarusian language is still used. However, some communities have adopted Russian and in the process have created Russian dialects with Belarusian substrata.
Language information: Considering it more prestigeous than Belarusian, people in some parts of Belarus have adopted Russian as their primary language. Most of those that grew up speaking Belarusian, and even many of their children and grandchildren that no longer speak Belarusian or do not speak it well, speak Russian with more or less Belarusian influence. This has led to the creation of a group of language varieties that is variously considered a "hybrid," which has even been mistakenly considered a "pidgin" or "creole."
It may be safe to describe Trasianka as being Russian on Belarusian substrata. In other words, the case of Trasianka is similar to those of Missingsch (i.e. German on Low Saxon substrata) and Stadfrys (i.e. Dutch on West Frisian substrata). Trasianka vocabulary is mostly Russian-derived, while its pronunciation is predominantly Belarusian, and its morphology is a fairly even mixture.
The name Trasianka is pejorative in origin, derived from a word for grass mixed with hay. In regions close to the Russian border, the name Mešanka (мешанка 'mash') is more commonly used for these language varieties.
Russian on Belarusian substrata has a fairly long history, its beginning preceding the now common names for it.
There are certain social problems with speaking in Trasianka, especially the issue of generation gap that Trasianka and literary Belarusian create between parents and children, and the rejection and alienation that has been experienced by some nationalistic activists who insist on using correct literary Belarusian. However, for other intellectuals whose education is connected to national culture (these are among philologists, linguists, historians, culturologists, ethnologists etc.), trasianka is not acceptable in formal communication either. Also in general it is valued low as a "spoiled", "corrupted" Belarusian or Russian. There are several comedians in Belarus (esp. Sasha and Sirozha) who use Trasianka in their comic skits." [Wikipedia]
Genealogy: Indo-European > Slavonic > Eastern
---
Click to open the translation: [Trasianka]

---
Author: Reinhard F. Hahn