Trasjanka
Trasianka
Russian on Belarusian substratum
---
Listen to this translation (with native pronunciation):
Translation and Narration: Nataly Balamut (Наталля Баламут)
Location: Grodno (Belarus)
Transliteration: Reinhard F. Hahn, Seattle (USA)
Language information: [Click]

---

[Roman Script] [Cyrillic Script]
---
Krapiwnik
U krapiwnika bylo zvita hnjazdo w haraže. Adzin raz abodvy uzroslyh paljacjeli — jany hacjeli razdabyc' što-nibudz' pajesci dlja svaih dzjacjej — i astavili malyšej sawsih adnyh. Cjeraz njekatoraje wremja bac'ka-krapiwnik vjarnuwsja damow.
"Što tut zdzjelalasja? — sprasiw jon. — Hto vas abidzjew, dzjeci? Vy tak napuhany!"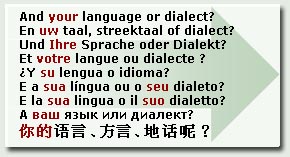 "Oj, papa, — zapiščali jany, — jakoja-to agromnoje strašylišča tol'ki što bylo tut. jano vyhljadzila takim svirepym i wžasnym! jano pjalilasja w naša hnjazdo svaimi agromnymi hlaziščami! My tak pjerapuhalis'!"

"Panjatna, — skazaw papa-krapiwnik, — dyk kudy jano pajšlo?"

"Nu, — atvjecili pcjancy, — jano šavalasja vun tam".

"Ždzicja! — uskliknuw papa-krapiwnik. — ja za im. Nje valnujcjesja, dzjeci. Jano w mjanje palučyc'!" I vyljecjew sljedam.

Kali krapiwnik dascih pavarotu, to wvidzjew za im il'va, jaki spakojna prahulivawsja.

Alje krapiwnik nje spuhawsja. Jon pryzjamliwsja il'vu na spinu i pačaw jaho ruhac'.

"Jakoje prava ty imjeješ pryhodzic' u moj dom, — vaskliknuw jon, — i puhac' maih dzjacišak?"

Ljew nje abraščaw na jaho wnimannja i pradawžaw prahulku. Heta jašče bol'š razazlila dzjerzkaha krykuna.

"Ty nje imjeješ nijakaha prava nahadzicca tut, ja tabje havaru. I jesli ty jašče raz tut pajavissja, — prygraziw krapiwnik, — ty w mjanje palučyš! ja nje haču hetaha dzjelac', — praiznjes jon, prypadnimaja lapku, — alje adnym udaram kryla ja mahu pjeralamac' tabje hrybjet!"

Paslja hetaha krapiwnik vjarnuwsja w hnjazdo.

"Nu što ž, dzjeci, — skazaw jon, — ja prapadaw čudovišču harošy wrok. Bol'š jano nikahda sjudy nja vjernicca".