Westphalian Low Saxon
---
Listen?

Translator: Olaf Bordasch
Location: Gütersloh, Westphalia (Germany)
Transliteration: Reinhard F. Hahn (License)
Language information: Westphalian Low Saxon is one of the varieties of the Low Saxon language, spoken in the German region of Westfalen (Westphalia). Some of the dialects on the Netherlands side of the border in that region might be classified Westphalian. [Click here for more.]
---

[German Spelling]
[Dutch Spelling]
---
Dei niëtelkuanig
Dei niëtelkuanig het zien nest in 'e schoern hat. Nu zind dei auwlen beide ens oetvlaogen wian, Zei het vuar iër jóngen wat tóu iëten halen wolt un het dei lutken gaans alleine loten.
Nao 'n tied kump dei auwle wiër tóu hoes.
"Wat is hiër passeert?", zegt hei, "Wei het joe wat dóun, kinner? Jie zint jo gaans baange!"
"Och, Vaar," zegget ze, "hiër kaam just zo 'n laaigen kearl vuarbie. Dei zaog zo baaize un grieslik oet! Dei gloepe met ziene grauwten auwgens in oeze nest harin. Do het wie us vervaerd."
"Sauw," zegt dei auwle, "Wao is hei denn afbliëben?"
"Jo," zegget ze, "hei is do harumme gaon."
"Tuif maen!" zië dei auwle, "Daen wil ik nao. Ziet jie maen stille! Daen wil 'k kriegen." Do vlugt hei em nao.
Os hei umme dei ekke kump, do is dei leuwe dat, dei gaait do laangs.
Dei niëtelkuanig is owwer nich baange. Hei zet zik óp 'en ruggen van 'en leuwen dal ón vaengt an tóu schennen. "Wat haes doe bie mien'n hoes tóu dóun?" zegt hei, "ón miene lutken kinner tóu vervaern?"
Dei leuwe keiert zik do gor nich dran un gaait widder.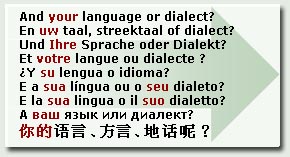 Do schent dat drieste kearlken nao vel duller. "Doe haes do gor niks verlaoren, wil 'k die maen zeggen. Ón kums doe wiër," zegt hei, "den zas du maol zein! Ik mag et maen nich dóun," zegt hei – un domet buart hei tóu lest zien bein – "sus paoske ik die vaorts daen ruggen in!"

Doróp vlucht hei wiër trugge nao zienen neste hen.

"Sauw, kinner," zegt hei, "daen haef ik dat afleart. Dei kump nich wiër."