Westphalian Low Saxon
---
Listen?

Translator: Olaf Bordasch
Location: Gütersloh, Westphalia (Germany)
Language information: Westphalian Low Saxon is one of the varieties of the Low Saxon language, spoken in the German region of Westfalen (Westphalia). Some of the dialects on the Netherlands side of the border in that region might be classified Westphalian. [Click here for more.]
---

[German Spelling] [Dutch Spelling]
---
Däi Niätelküanig
Däi Niätelküanig hät sien Nest inne Schüürn hat. Nu sind däi Aulen bäide ens uutfloagen wian – säi hät füar iär Jungen wat tou iäten halen wolt – un hät däi Lütken gans alläine loten.

Noa'n Tiet kümp däi Aule wiär tou Huus.

"Wat is hiär passeert?", seggt häi, "Wäi hät juu wat doun, Kinner? Jie sint jo gans bange!"

"Och, Vaar", segget se, "hiär kam just so'n laigen Kearl füarbie. Däi soag so baise un grieslik uut! Däi glupe met siene grauten Augens in use Nest harin. Do hät wie us verfärd."

"Sau", seggt däi Aule, "Woa is häi denn afbliäben?"

"Jo", segget se, "häi is do harümmegoan."

"Töüf män!", siä däi Aule. "Dän wil ik noa – siet jie män stille – dän wil'k kriegen." Do flücht häi em noa.

Os häi ümme däi Ekke kümp, do is däi Löwe dat, däi gäit do langs.

Däi Niätelküanig is owwer nich bange. Häi sett sik uppen Rüggen vannen Löwen dal un fängt an tou schennen. "Wat häs du bi mien'n Huus tou doun?", seggt häi, "un miene lütken Kinner tou verfärn?"

Däi Löwe käiert sik do gor nich dran un gäit widder.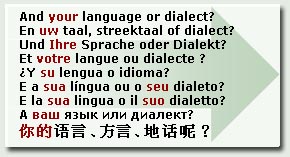 Do schennt dat drieste Kearlken noa vel duller. "Du häs do gor niks verloaren, wil'k die män seggen. Un kümms du wiär", seggt häi, "denn sas' du moal säin! Ik mag et män nich doun", seggt häi – un domet büart häi toulest sien Bäin – "süss poaske ik die foarts dän Rüggen in!"

Dorup flücht häi wiär trügge noa sienen Neste hen.

"Sau, Kinner", seggt häi, "dän häff ik dat afleart. Däi kümp nich wiär."