Western Flemish
Variety of Roeselare, Belgium
---
Listen to this version narrated with native pronunciation:
Translationr & Narration: Luc Vanbrabant
Location: Oekene, West-Vlaanderen (Belgium)
Language information: [Click]

---
't Keuninkske
't Keuninkske zit me'n nest in de scheure. Nu zijn d'ouders te gaore ne keê eut gaon vlieg'n. Ze zijn voôr ulder jongskes un bitje eet'n goan haol'n, en z'hèn de kleêntjes heêl alleêne gelaot'n.

Achter 'n tijdje komm' die ouders were theus.

"Wat is ter hier gebeurd?" zegt hij, "wulkeên hèt er jou entwa' gedaon kinders? Je ziet er zo verschrikt eut."

"Och vaodre," zeg'n ze, "hier kwam ter zuk e groôte beêste voôrbij. Die zagter zo dul en schriklik eut. Je staorde met zijn groôte oôgen naor oes in't nest. Daovan hè me stijf verschoot'n."

"Zo," zegt eên van d'ouders, "waor is 't hij ton geblev'n?"

"Jao," zeg'n ze, "hij is nao gunter gegaon."

"Wachte," zegt den oud'n, "dao gao'k achtre. Zij maar stille kinders. 'ndien gao'k wel krijgen."

Daormee vliegt hij hem achternao.

Ao't hij van achter den hoek komt, is de leêw daor an't passeren.

Mao 't keuninkske is nie benauwd. Hij zet hem up de rugge van de leêw nere en begunt hem te verwijt'n.

"Wat hè je gie bij mijn heus te zoek'?" zegt hij, "en mijn kinders de schrik an te jaog'ne?"
De leêw trekt hem dao niet van an en gao' zijne gank.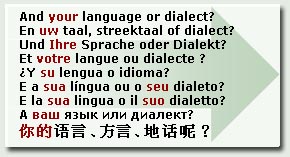 Dao komt hij nog dulder van, de kleêne lussak. "Gie hèt dao nie verloren, zeg'k jou. En aoj werekomt," zegt hij, "ton gaoj't ne keê gaon ziene. 'k En mag et eigentlik niet doene," zegt hij, en daobij heft hij zijn beên up, "mao 'k breke direct jen beên in tweên."

Daorup vliegt hij were nao zijn nest.

"Zo, kinders," zegt hij, "van'n dien hè'k et afgeleêrd. Je komt nie meê were."