Please click here to leave an anniversary message (in any language you choose). You do not need to be a member of Lowlands-L to do so. In fact, we would be more than thrilled to receive messages from anyone.
Click here to read what others have written so far.




What's with this "Wren" thing?
The oldest extant version of the fable we are presenting here appeared in 1913 in the first volume of a two-volume anthology of Low Saxon folktales (Plattdeutsche Volksmärchen "Low German Folktales") collected by Wilhelm Wisser (1843–1935). Read more ...


| | | |
| --- | --- | --- |
| | | |

Yiddish
---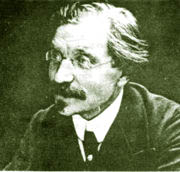 Sholem Aleykhem (born Sholem
Yakov Rabinovitsh, 1859–1916)
is perhaps the most beloved and
translated Yiddish writer. One
of his most popular works is
Tevye
der Milkhike
r (
Tevye the Milkman
),
on which the musical play
Fiddler
on the Roof
was based.
Language information: Yiddish is one of the world's numerous Jewish languages or rather languages specific to Jewish communities. The native name yidiš ("Yiddish") literally means "Jewish", a shorter form of yidiš daytš "Jewish German." Prior to World War II, it was more often referred to as daytš "German" in Eastern Europe.
The language developed from late medieval German (Middle (High) German) peppered with Jewish jargon. As a result of isolation due to increasing antisemitism, ghettoization and massive emigration to Eastern Europe, Yiddish quickly developed into a very distinct group of language varieties. At least in the early days of eastern settlement, Jews had fewer restrictions put upon them, and many worked the land and specialized in profession that they had not been allowed to have back in Germany. In such "new" areas they therefore needed to adopt much new specialized terminology that they had not needed previously. Most of it they adapted from the predominant languages of their new homes. These East European influences, especially Slavic influences, together with little or no further contact with German caused Eastern Yiddish to depart particularly far from German, in addition to Romance, Hebrew, Aramaic and other influences that are common to all Yiddish varieties. Yiddish dialects of the Americas have added to this English, Spanish and Portuguese influences.
Due to the Nazi Holocaust, Yiddish lost millions of European speakers within a few years. Many are worried about the future of the language, though lately there has been renewed interest in it. This includes a good number of non-Jews that are interested in this German offshoot and appreciate the unique, rich and powerful cultural, literary and musical heritage as whose vehicle Yiddish has been serving.
Western Yiddish is now nearly extinct, while Eastern Yiddish is still used all over the world but also has a fast dwindling number of speakers. The Yiddish dialects of Belgium and the Netherlands are often referred to as "Western Yiddish," but they are really Eastern Yiddish dialects with Dutch and French influences.
TRUE OR FALSE?
"Yiddish descended from Low German."
Most definitely false!
"Low German" is not
the same as "Non-Standard German." It has
two meanings: (1) Low Franconian and Low
Saxon as a group, and (2) Low Saxon.
Low
Saxon
is a separate language, descended
from
Old Saxon
, not from
Old (High) German
.
Low Fanconian includes languages like

Dutch
and
Afrikaans
. All of these, like
English
,
are Germanic but not
German
, which is
another Germanic language again.
Yiddish originated from Middle German.
Yiddish is written with modified Hebrew script and is the vehicle of a glorious literary tradition. This literary tradition began in the medieval times, reemerged to reach its zenith in the 19th century with the works of great authors like Sholem Yankev Abramovitsh, Mendele Moykher Sforim, Sholem Aleichem, I. L. Peretz, Sholem Asch, I. B. Singer, Abraham Sutzkever and Rachel Korn. Yiddish also served (and in some places still serves) as an important theatrical medium as which it was featured most prominently on the northeast coast of the United States of America. Yiddish vaudeville may be credited as being a major direct or indirect source of arguably the greatest humoristic tradition of the USA.
An important work written in Western Yiddish (meanwhile translated into other languages and into Eastern Yiddish) was created in 17th-century Northern Germany: the memoirs of Glikl Hamil (Glückel of Hameln), neé Glikl bas Juda Leib (1646–1724), who was born and raised in Hamburg and lived there most of her life:
Zikhrounes maras Glikl Hamil. David Kaufmann, ed., J. Kauffmann, Frankfurt am Main, 1896 [Western Yiddish, Hebrew script]
Die Memoiren der Glückel von Hameln. David Kaufmann, ed., J. Kauffmann, Frankfurt am Main, 1896 [Western Yiddish, Roman script]
Glikl Hamil: Zikhroynes. Translated by Joseph Bernfeld, Buenos Aires, 1967. [Eastern Yiddish]
The Life of Glückel of Hameln 1646–1724, written by herself. Translated from the original Yiddish and edited by Beth-Zion Abrahams, Yoselof 1963 (1962 Horovitz Publ. Co., London). [English]
Memoirs of Glückel of Hameln. Translated by Marvin Lowenthal, 1977 (ISBN 0805205721) [English]
Glikl: Zikhronot 1691-1719. Edited and translated by Chava Turniansky, The Zalman Shazar Center for Jewish History and The Ben-Zion Dinur Center for Research in Jewish History, The Hebrew University, Jerusalem 2006 [Hebrew]
Die Memoiren der Glückel von Hameln. Translated by Bertha Pappenheim, Meyer & Pappenheim, Vienna, 1910 (ISBN 3-89547-040-6; papaerback: Beltz, Weinheim 2005, ISBN 3-407-22169-X) [German]
Denkwürdigkeiten der Glückel von Hameln. Translated and edited by Alfred Feilchenfeld. Jüdischer Verlag, Berlin 1913 (reprint of the 4th edition 1923: Athenäum, Frankfurt 1987, ISBN 3-610-04699-6 u. a.; last: Philo, Bodenheim 1999, ISBN 3-8257-0073-9) [German]
Gluckel Hameln: Mémoires. Translated by Léon Poliakov, Les Editions de Minuit, Paris, 1971. [French]
Le memorie di Glückel von Hameln. Translated by Roberta Ascarelli. [Italian]
Glikl Hameln emlékiratai. Translated by Jólesz László, Atheneum 2000 Kiadó, Budapest (ISBN 9639261696). [Hungarian]
Genealogy: Indo-European > Germanic > West > High & Middle German > Judeo-German
Historical Lowlands language contacts: Dutch, English, Low Saxon
---
Click to open the translation: [Click]

---
Author: Reinhard F. Hahn



© 2011, Lowlands-L · ISSN 189-5582 · LCSN 96-4226 · All international rights reserved.
Lowlands-L Online Shops: Canada · Deutschland · France · 日本 · UK · USA









Please click here to leave an anniversary message (in any language you choose). You do not need to be a member of Lowlands-L to do so. In fact, we would be more than thrilled to receive messages from anyone.
Click here to read what others have written so far.





What's with this "Wren" thing?
The oldest extant version of the fable we are presenting here appeared in 1913 in the first volume of a two-volume anthology of Low Saxon folktales (Plattdeutsche Volksmärchen "Low German Folktales") collected by Wilhelm Wisser (1843–1935). Read more ...

| | | |
| --- | --- | --- |
| | | |




Yiddish

---




Sholem Aleykhem (born Sholem

Yakov Rabinovitsh, 1859–1916)

is perhaps the most beloved and

translated Yiddish writer. One

of his most popular works is

Tevye
der Milkhike

r (

Tevye the Milkman

),

on which the musical play

Fiddler
on the Roof

was based.

Language information: Yiddish is one of the world's numerous Jewish languages or rather languages specific to Jewish communities. The native name yidiš ("Yiddish") literally means "Jewish", a shorter form of yidiš daytš "Jewish German." Prior to World War II, it was more often referred to as daytš "German" in Eastern Europe.
The language developed from late medieval German (Middle (High) German) peppered with Jewish jargon. As a result of isolation due to increasing antisemitism, ghettoization and massive emigration to Eastern Europe, Yiddish quickly developed into a very distinct group of language varieties. At least in the early days of eastern settlement, Jews had fewer restrictions put upon them, and many worked the land and specialized in profession that they had not been allowed to have back in Germany. In such "new" areas they therefore needed to adopt much new specialized terminology that they had not needed previously. Most of it they adapted from the predominant languages of their new homes. These East European influences, especially Slavic influences, together with little or no further contact with German caused Eastern Yiddish to depart particularly far from German, in addition to Romance, Hebrew, Aramaic and other influences that are common to all Yiddish varieties. Yiddish dialects of the Americas have added to this English, Spanish and Portuguese influences.
Due to the Nazi Holocaust, Yiddish lost millions of European speakers within a few years. Many are worried about the future of the language, though lately there has been renewed interest in it. This includes a good number of non-Jews that are interested in this German offshoot and appreciate the unique, rich and powerful cultural, literary and musical heritage as whose vehicle Yiddish has been serving.
Western Yiddish is now nearly extinct, while Eastern Yiddish is still used all over the world but also has a fast dwindling number of speakers. The Yiddish dialects of Belgium and the Netherlands are often referred to as "Western Yiddish," but they are really Eastern Yiddish dialects with Dutch and French influences.




TRUE OR FALSE?
"Yiddish descended from Low German." Most definitely false!

"Low German" is not

the same as "Non-Standard German." It has

two meanings: (1) Low Franconian and Low

Saxon as a group, and (2) Low Saxon.

Low
Saxon

is a separate language, descended

from

Old Saxon

, not from

Old (High) German

.

Low Fanconian includes languages like


Dutch

and

Afrikaans

. All of these, like

English

,

are Germanic but not

German

, which is

another Germanic language again.

Yiddish originated from Middle German.

Yiddish is written with modified Hebrew script and is the vehicle of a glorious literary tradition. This literary tradition began in the medieval times, reemerged to reach its zenith in the 19th century with the works of great authors like Sholem Yankev Abramovitsh, Mendele Moykher Sforim, Sholem Aleichem, I. L. Peretz, Sholem Asch, I. B. Singer, Abraham Sutzkever and Rachel Korn. Yiddish also served (and in some places still serves) as an important theatrical medium as which it was featured most prominently on the northeast coast of the United States of America. Yiddish vaudeville may be credited as being a major direct or indirect source of arguably the greatest humoristic tradition of the USA.
An important work written in Western Yiddish (meanwhile translated into other languages and into Eastern Yiddish) was created in 17th-century Northern Germany: the memoirs of Glikl Hamil (Glückel of Hameln), neé Glikl bas Juda Leib (1646–1724), who was born and raised in Hamburg and lived there most of her life:

Zikhrounes maras Glikl Hamil. David Kaufmann, ed., J. Kauffmann, Frankfurt am Main, 1896 [Western Yiddish, Hebrew script]
Die Memoiren der Glückel von Hameln. David Kaufmann, ed., J. Kauffmann, Frankfurt am Main, 1896 [Western Yiddish, Roman script]
Glikl Hamil: Zikhroynes. Translated by Joseph Bernfeld, Buenos Aires, 1967. [Eastern Yiddish]
The Life of Glückel of Hameln 1646–1724, written by herself. Translated from the original Yiddish and edited by Beth-Zion Abrahams, Yoselof 1963 (1962 Horovitz Publ. Co., London). [English]
Memoirs of Glückel of Hameln. Translated by Marvin Lowenthal, 1977 (ISBN 0805205721) [English]
Glikl: Zikhronot 1691-1719. Edited and translated by Chava Turniansky, The Zalman Shazar Center for Jewish History and The Ben-Zion Dinur Center for Research in Jewish History, The Hebrew University, Jerusalem 2006 [Hebrew]
Die Memoiren der Glückel von Hameln. Translated by Bertha Pappenheim, Meyer & Pappenheim, Vienna, 1910 (ISBN 3-89547-040-6; papaerback: Beltz, Weinheim 2005, ISBN 3-407-22169-X) [German]
Denkwürdigkeiten der Glückel von Hameln. Translated and edited by Alfred Feilchenfeld. Jüdischer Verlag, Berlin 1913 (reprint of the 4th edition 1923: Athenäum, Frankfurt 1987, ISBN 3-610-04699-6 u. a.; last: Philo, Bodenheim 1999, ISBN 3-8257-0073-9) [German]
Gluckel Hameln: Mémoires. Translated by Léon Poliakov, Les Editions de Minuit, Paris, 1971. [French]
Le memorie di Glückel von Hameln. Translated by Roberta Ascarelli. [Italian]
Glikl Hameln emlékiratai. Translated by Jólesz László, Atheneum 2000 Kiadó, Budapest (ISBN 9639261696). [Hungarian]

Genealogy: Indo-European > Germanic > West > High & Middle German > Judeo-German

Historical Lowlands language contacts: Dutch, English, Low Saxon

---

Click to open the translation: [Click]

---

Author: Reinhard F. Hahn



© 2011, Lowlands-L · ISSN 189-5582 · LCSN 96-4226 · All international rights reserved.
Lowlands-L Online Shops: Canada · Deutschland · France · 日本 · UK · USA