---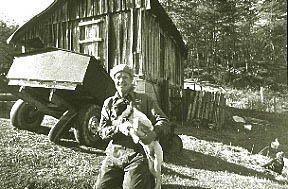 A region of great beauty with a history of widespread poverty,
Appalachia is a cultural and linguistic treasure trove.
Language information: English is currently the most important language in the world. Its origin and variety are highly complex. It began as a mixture of Anglish, Old Saxon, Old Jutish, Old Frisian and possibly other Old Germanic varieties imported from the Continental Lowlands, as well as numerous Medieval Latin loans. The resulting Old English (or Anglo-Saxon) language came to supplant most Celtic language varieties of Britain. Viking and Norman invasions resulted in layers of Scandinavian and Norman French influences. English morphology underwent radical simplification, and this caused the syntax to lose much of its earlier flexibility. Dialectical diversity is considerable, the most densely occurring diversity being in the British Isles and Ireland, followed closely by the North American East Coast, especially New England and Canada's Maritime Provinces. Having changed little since the fourteenth century, today's English orthography is one of the most historical systems and takes much time and effort to master.
Appalachian is a very distinct English dialect group spoken in the Great Smoky Mountains region and in other regions along the Appalachian Mountain Chain in the eastern part of the United States of America. Traditionally, there has been much prejudice against these dialects in the American population at large. Being often referred to as "Hillbilly Talk," they tend to be considered hallmarks of poor education. However, in recent decades Appalachian studies have contributed to an improving image, collection of information and instilling pride in Appalachian heritage.
Historical Lowlands language contacts: English, [Scots?]
Genealogy: Indo-European > Germanic > Western > Anglo-Scots > English > American > Eastern
---
Click to open the translations: [Tennessee] [West Virginia]

---
Author: Reinhard F. Hahn