Central West Virginia, USA
---
Translation: Arthur A. Jones
Location: Los Angeles, Californian, formerly Central West Virginia, USA
Language information: [Click]

---
---
The Rin
Oncet they was this here rin fambly had made hits nist alt in the wagon-shed furnint the halss. One day the elders flew awf and did go alt tuh git theer babies some food. And wah, they left theer younguns bah theerself.

After bit the father rin he come back t'home and he asked, "What has bin a'gowin' awn heer? Someone trah tuh hurt ye-all? Hit looks tuh me lahk ye—all are sore afeerd!"

"Oh dad," the chicks said, "They was this here great big monster come by little bit ago. An' he was so mean and frightful! He sturd raht inter ahr nist with them big ol' eyes o'his. We were awl raht skeerd."

"Well," said father rin, "whur'd ee go to?"

"He wint daln yander," said the chicks.

"Ye-all jus bahd here," said daddy rin, "Ahm a-gowin after im. Don't ye-all worry yerself none. Ahl git im." An thin he flew off.

Wail, he flew daln that thur holler, and seen they was a malnt'n lahn a-lopin' lawng.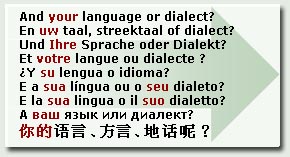 But the rin he weren't at awl afeerd. Wah, he jus lit on that thur lahn's back an wint ta hollerin': "Ye hain't got ary cawl a-skeerin' mah childern! Ahd jus' as leef ye stayed way off." Liftin' up his tahny laig, he wint on, "An ye was ta come back agin, wah Ah'll jus cleen break yore back with one stomp o' this here laig."

An thin he proceeded to flah back to the nist.

"Thur ye go, chicks," he sed, "Ah shore tole him off. He won't be a-botherin' us-kahnd no more."