Bolinao
---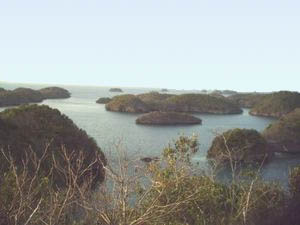 Located near the Hundred Islands National Park, the
Bolinao-speaking island municipality of Anda is commonly
known as the "Mother of the Hundred Islands."
Language information: Bolinao is one of the languages of the Philippines' Pangasinan Province situated in Central Luzon. It is primarily the language of the island municipality of Anda which lies at the entrance of Lingayen Gulf.
Although Bolinao is used in Pangasinan, it is only distantly related to the Pangasinan languages that dominates that province. Bolinao is one of the Sambalic languages that are used along the central west coast of the Island of Luzon. In terms of speaker number (ca. 50,000) it is the second-largest Sambalic language (after Sambal with about twice as many speakers).
Bolinao has traditional contacts with other Sambalic languages as well as with regionally dominant Pangasinan and nationally dominant Tagalog. It has been influenced by both of these dominant languages as well as by Spanish and English.
Genealogy: Austronesian > Malayo-Polynesian&nbsp> Western&nbsp> Philippines&nbsp> Northern&nbsp> Central Luzon&nbsp> Sambalic
Historical Lowlands language contacts: English
---
Click to open the translation: [Bolinao]

---
Other Philippine language varieties: [Click]

---
Author: Reinhard F. Hahn