Place of Birth: Lesswig, "Altes Land," District of Stade, Lower Saxony, Germany
Last Place of Residence: Norderstedt, Schleswig, Schleswig-Holstein, Germany
Project participation: Olland Low Saxon
Website: http://www.sassisch.net/rhahn/kramer/
Author: Reinhard F. Hahn, Seattle & San Francisco (USA)
---
---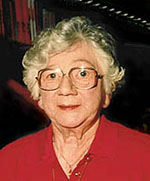 ant (Auntie) Clara joined Lowlands-L in its first year. Her grandson, James Kramer, at the time living in Canada (now in Australia), had introduced her to us, and we welcomed her with open arms.
Tant Clara was an Ollandsche Diern, an "Olland lassie." In other words, she was born (November 3, 1919) and raised in Leeswig, a small town in the Lower Saxony part of "Olland," officially Dat Ole Land in Low Saxon (Low German) and Das Alte Land in German, meaning "The Old Land." This is a rural, mostly vegetable- and fruit-growing area straddling the border region of two German states: Hamburg and Lower Saxony. Founded by Dutch immigrants soon after the Thirty-Year War (1618–1648), its culture and dialect are distinct, though they fit in with other Low Saxon cultures and dialects of the Lower Elbe region.
Olland preserved much of its original character longer than have most other areas in the region. This is a primarily rural-based linguistic and cultural community that is under constant pressure from mainstream Germanization, of cultural and linguistic adaptation, of homogenization emanating particularly from neighboring cosmopolitan Hamburg, the foremost consumer of the goods outlying agricultural and fishing communities produce. And the very uniqueness, beauty and charm of Olland attract visitors from Hamburg, particularly when fruit trees are in bloom and when their summer's yield is most abundant. Those were particularly exciting times of the year for little Clara. She and her sister would earn the odd extra pfennig for their family by selling posies to the visiting "posh" urbanites, bunches of local wild flowers picked on local dikes. Those would be the girls' first opportunities to hear and practice a bit of German before they were enrolled in the local school in which, as in all schools of Northern Germany (then as now), use of her native language was prohibited.

Her Olland childhood stayed with Tant Clara all her life, a simple childhood, materially poor by today's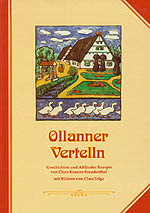 European standards, but, oh, so happy and rich, at least in her memory. Even though she married a German monolingual Thuringian and raised her children (Diether, Heiner and Gertie) predominantly in German, she hung on to her beloved Ollandsch. She did so even during the post-war period, by many considered the darkest period for the language, when the predominant sentiment was that the key to happiness was economic success, and that this depended on a homogenized, German-based culture and education with the addition of "real" and "useful" foreign languages rather than "useless" and "archaic" "German dialects" like hers. She had perfectly mastered "High" German as a foreign language but never managed to learn the language of any foreign country, since under the Nazi regime this was considered unbecoming of "the German woman." She regretted never having learned English, especially when she and her husband Heinz had Canadian-raised grandchildren and great-grandchildren, and when she had joined Lowlands-L with English as its predominant language. It was this handicap along with her failing health that provoked her to leave Lowlands-L some seven years later, though she kept in touch with the group and with individual members, some of them real friends.
Tant Clara had an easy time making friends, in part because she welcomed all types of people with genuine openness and affection. Being her friend was almost like being a part of her family.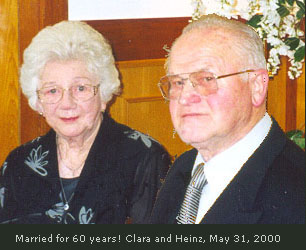 Her heart was at home in Olland, but her thoughts, compassion and love extended to all corners of the world. She definitely had her own opinions as well as her own moral and political standards, most certainly disagreed with several countries' politics—and occasionally she dished out sermons. She had learned a thing or two by having lived through Germany's Nazi period as a person suspected of being of Jewish descent on the basis of her maiden name (which later turned out to be correct, although there seems to have been only one ancestor centuries ago). She had had personal brushes with the Great Holocaust and had barely survived her escape from the advancing Red Army with her two young sons. But her feelings about governments were unrelated to her feelings about individuals. Similarly, she followed a certain spiritual path, but this did not affect the way she felt about and treated people of other faiths. And her loving compassion reached out beyond humans to all creation. She loved most types of animals (though she admitted having a rather uneasy relationship with slugs), felt passionately about the environment, loved her garden and talked to trees in her writings. She displayed indignation and anger only when faced with injustice, such as mistreatment of the defenseless, be they human or otherwise. She would react similarly when an editor rejected a newspaper column manuscript of hers as "too political." What irked her most about that was the implication that political engagement was unbecoming of a "little old lady" who wrote in an "old folks' language."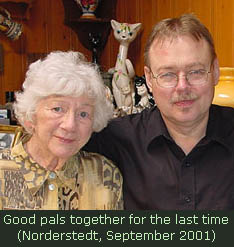 She was not going to be pushed into playing the role of an apolitical grandma that entertained with "safe," "cute" yarns. No, till the very end she was a mover and a shaker, also was a language activists, and she did not shy away from writing letters to the powers that be. She was a tough woman, had a very strong presence within her family and everywhere she went, speaking her mind assertively but never disrespectfully, and she was not going to be subdued by any stereotyping role. All right, so her writing career, begun as she was approaching her seventieth year—her book Ollanner Vertelln (Stories of Olland), her regular newspaper columns and her numerous articles and book chapters, aside from her collaboration on the Hamburger Wörterbuch (Hamburg Dictionary)—was predominantly about times past as well as about the life of a retired couple. But there was the occasional social and political criticism. And why shouldn't there be?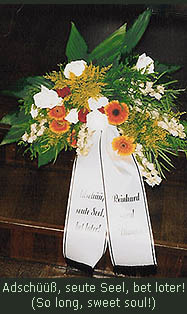 What a privilege and pleasure it was to be Tant Clara's friend! And how hard it was to let go of a friend like that! She passed away peacefully on June 10, 2005, just a couple of days after her and Heinz's sixty-fifth wedding anniversary. She had just barely made it. She had been tough, had lived with cancer and related maladies for a long time. I suspect that her toughness took a serious beating when her son Heiner passed away in 2003.

If things went as she steadfastly believed and I hope, she is now reunited with her Heiner, with her sister and parents, with Frau Professor Marie Fraenkel whom she had admired so and who had perished in the Theresienstadt concentration camp. She is now with many friends and with all those Ollanders that had preceded her ... I got my last teary hugs from her in September 2001, having twice run back for more. This was the first and last day four of the most important women in my life were in one place. I will never forget the sight of Tant Clara and my mother sitting quietly and happily together in the Kramers' lovely garden, admiring the lush fruit trees—in September 2001, my mother's last month of life.

Tant Clara will be missed by many, for she had given much and had touched many, many people's lives, and her touches will linger. "Hers was an excellent life," as Sandy Fleming, one of our Scottish Lowlanders, aptly put it. Certainly, here and there along the way her life was hard, but it was excellent all the way.

So long, our white Low Saxon rose, our sweet Olland Lassie!

Your Reinhard
2005