Boorn: Lesswig, "Dat Ole Land," Kreis Staad', Neddersassen, Düütschland
Toletzt wahnt: Norderstedt, Sleswig, Sleswig-Hulsteen, Düütschland
Projekt-Mitarbeid: Ollandsch
Nettsiet: http://www.sassisch.net/rhahn/kramer/
Autor: Reinhard F. Hahn, Seattle un San Francisco (USA)
---
---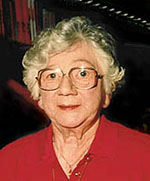 ant Clara wöör al in't eerste Jahr Liddmaat vun Lowlands-L. Ehr Grootsœhn, James Kramer, to de Tied in Kanada tohuus' (nu in Australien), harr dat in de Rehg' bröcht, dat wi mit ehr tohoop kemen, un wi harrn ehr mit apene Arms bi us upnahmen.
Tant Clara was 'n Ollandsche Deern, was an'n 3. Nävelmaand 1919 in Leeswig boorn un was daar ok tagen. Dat is 'n Dörp in Olland (Dat Ole Land), up de neddersassische Siet. Olland liggt deelwies' in Hamborg un deelwies' in Neddersassen, is 'n landweertschuplich Rebeed mit tomeerst Aavt- un Kruudhœv'. Kultuur un Dialekt vun düt Rebeed, in dat 'n lange Tied trügg, nich lang na'n Dörtigjahrigen Ooorloog (1618–1648), Hollänners mit Diekbo un Bueree anfungen harren, ja, düt Rebeed sien Kultuur un Dialekt hebbt jüm ehr apartigen Tœg'. Man dat se mit to de Gemeenschup vun neddersassische (nedderdüütsche) Kultuurn un Dialekten vun de Nedderelv tohöört, daar bruukt 'n nich œver in Tweebedacht to sien.
Dat Ole Land hett mehr vun sien ole Aard un Wies' bewahrt as de mehrsten annern Rebeden in de Regioon. Dat is 'n Regioon, de in eensen to ünner Druck steiht, dat se sik kulturell un spraaklich an allgemene düütsche Aard un Wies' anpassen schull, 'n Druck, de besünners vun'n groten Naver kümmt, vun de Weltstadt Hamborg, de basige Stadt, för de dat Ole Land un annere Randgemenen mit jüm ehr Landweertschup un Fischeree de Röpen sünd. Un jüstemang vun wägen dat Bewahrn vun schöne ole Aard un Wies' kaamt stootwies' bannig vääl Hamborger Stadtlüüd' na Olland, besünners to Blöhtied un Aavtaarnd. Dat weern heel besünnere Tieden för lütt Clara. Se un ehr Süster verköpen denn lütte Rükelbüsch vull Diekblomen an de "vörnähmen" Stadtlüüd' un verdenen up de Wies' 'n paar Penn mit to för jüm ehr Lüüd'. För de Deerns weern dat de eersten Schangsen to'n lütt bäten Hoogdüütschhöörn un -öven, ehrer dat se up de Dörpschool kemen, 'nääm dat Snacken vun jüm ehr Moderspraak nich tolaten was, liek so as dat in all de noorddüütschen Scholen begäng was (un hüütodaags noch is).

Ehr Ollandsche Kinnertied is alltied in Tant Clara ehr Hart un Sinn bläven. Een eenfache Kinnertied is dat west, 'n bäten "armöödsch" (as de Hamborger das seggt), wat schraag', wenn 'n dat mit dat europääsche Läven vun hüüt verglieken deit. Man dat was liekers 'n, och, so glückliche un rieke Kinnertied, tominnst in ehr Besinnen.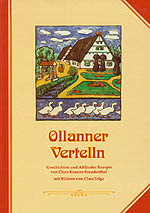 Een hoogdüütschen Thüringer hett se heiraadt un ehr Kinner (Diether, Heiner un Gertie) tomehrst up Hoogdüütsch uptagen. Liekers hung se för dull an ehr Ollandsch. Se hung daar sogaar an in de Tied na'n Oorloog, un dat was na 'n Barg Lüüd' ehr Verschääl de düüsterste Tied för dat Neddersassische (Nedderdüütsche). Dunn menen de mehrsten Minschen, Spood in de Weertschup weer de Slœtel to't Glücklichsien, dat düt vun't Anpassen an allgemene düütsche Kultuur un Schoolwäsen afhangt, 'nääm denn ok "rejelle" un "bruukbare" Frömdspraken mit tohöört, nich so'n "Tüünkraam as ole düütsche Dialekten" so as ehr Ollandsch. Perfektemang Hoogdüütsch harr se lehrt, man de Spraak vun 'n anner Land to lehren, nee, daar was se nich to kamen. Dat Nazi-Regeer harr so wat "für die deutsche Frau" as unpasslich ankäken. Se was trurig, dat se keen Ingelsch lehrt harr, besünners as later ehr Grootkinner un Œverkinner in Kanada upwussen, ok as se bi Lowlands-L inschräven was, 'nääm mehr Ingelsch as annere Spraken bruukt wardt. Vunwägen düt Handikap un ehr Süken is se denn na üm un bi sœven Jahr vun Lowlands-L weg. Liekers harr se later noch Verbinnen mit enkelte Liddmaten, de een or anner as echten Fründ.
Tant Clara befrünn sik alltied heel lichtfardig. Dat keem to'n Deel vun de uprichtig apene un leevtallige, meist tutige Aard un Wies', mit de se Hüün un Perdüün in de Mööt keem. Ehr Frünnen nöhm se praktisch so, as of se ehr egenen Lüüd' weern.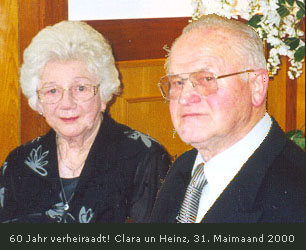 Ehr Hart was in Olland tohuus', man ehr Gedanken, ehr Mitföhln un ehr Leev', de güngen wied weg, verdwars un verdwäär dörch de hele Welt. Se harr in meist allens ehr egen Menen un Verschääl un ok ehr egenen moraalschen un polietschen Normen, sehg' de Politiek vun mennig een Land anners, un se dä geern maal wat "preestern". Se harr Düütschland sien Nazi-Tied mitbeläävt, stünd dunn ünner Verdacht vun jöödsche Afkumst to sien (un later wöör se wies, dat dat sien Richtigkeit harr, ofschoonst daar man bloots vör Jahrhunnerden een jöödschen Vörvadder was). De Holocaust harr ehr persöönlich anraakt, un se un ehr twee lütten Jungs hebbt up de Flucht vör de Rode Armee man noch so även œverläävt. Tja, un vun all de Saken harr se 'n Barg vun aflehrt. Man ehr Menen œver 'n Land sien Regeer un ehr Dinken œver den enkelten Minsch vun dat Land, dat weren ünnerscheedliche Saken. Se harr ehr egen Glöven, man Minschen mit annere Glövensrichten harr se liek so leev as ehr Glövensbröder un –süstern. Un leevtallig Mitföhln harr se nich bloots för de Minschheit; nee, de harr se för Hüün un Perdüün in de Welt. Se harr meist all de Slääg' Deerten leev (man se geev' to, dat se 't bi Wegsnicken nich so licht mit harr), un se reet sik liedensgeern för de Ümwelt af, harr ehrn Gaarn leev un snack in ehr Schriften mit Bööm.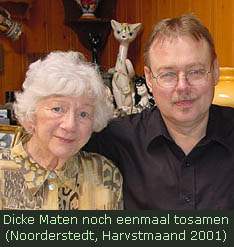 In Brass keem se man bloots, wenn dat üm 't Unrecht güng, eendoont wat för 'n Unrecht, man besünners Unrecht gägen Wehrlose, ok wenn dat keen Minschen weern. Orrig in Brass keem se ok, as 'n Redaktöör een vun ehr Manuskripten för ehr Bladdkolumne as "to polietsch" trüggstöten dä. Wat ehr an de Saak tomehrst argern dä, dat was dat Anspääln, dat 't polietsche Afrieten nich passen deit to 'n Olsche un ehr "Ole-Lüüd'-Spraak". De Rull vun 'n apolietsche Oma wull se nich spääln, 'n Oma, de man bloots "säkere", "söte" Saken vertellt. Nee, bit hin na't Enn reet se sik strävig af, ok för ehr Spraak, un se was nich bang, an de "hogen Lüüd'" Breven to schrieven. Se was 'n Fro mit Murr, de Middelpunkt vun ehr Familie. Se sä ehr Menen alltied klaar un düütlich, man jümmers mit Respekt, un se was nich Sinns, 'n stereotype Rull to spälen. Dat is wahr, dat de mehrsten Saken in ehr Schrieveree (de se anfüng as se meist 70 was), œver ole Tieden un œver dat Läven vun 'n Rentnerpaar sünd – t.B. in ehr Book Ollanner Vertelln, in ehr Kolumnen un in 'n Barg Artikels un Bookkapittels. (Se harr ok bi't Hamburger Wörterbuch mithulpen.) Liekers geev' 't af un an wat sotschaalpolietschen Kraam. Un worüm ok nich?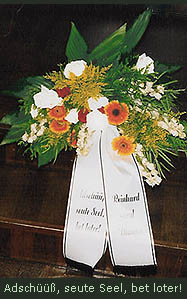 Wat was dat 'n Privileeg un Pläseer mit Tant Clara befründt to sien! Un wat was dat swaar, to 'n Minsch so as ehr adschüüß to seggen! An'n 10. Braakmaand is se vun us gahn, man bloots 'n paar Daag' na ehr un ehr Heinz ehr fievunsösstigsten Hochtiedsdag; den harr se man noch so även mitfiern kunnt. Taag was se west, harr 'n paar Jahrn mit Kreevt un daarmit verbunnene Aarsgebräkens läävt. Amenn harr ehr Knœv un Willen 2003 'n Knacks wegkrägen, as ehr Sœhn Heiner dood bleev'.

Wenn dat so is, as se 't glöövt harr un as ik dat hœpen do, denn is se nu wedder mit ehr Heiner, ehr Süster un ehr Öllern tosamen, ok mit Fro Perfesser Fraenkel, de se so estemeert harr, de in't Lager Theresienstadt üm't Läven keem. Nu is se bi all de Frünnen un Ollanners, de vör ehr afgahn sünd. Mit Tranen in de Ogen drück un drück se mi bi't Adschüüßseggen in'n Harvstmaand 2001, un dat was dat letzte Maal. Tweemaal was ik trügglopen, wull ehr noch eenmaal drücken. Dat was 'n wichtigen Dag: veer vun de wichtigsten Froonslüüd' in mien Läven weern tohoop up een Stääd'. Nie nich vergäät ik dat Bild vun Tant Clara un mien Moder, wo de beiden in'n letzten Lävensmaand vun mien Moder so still un glücklich tohoop säten un in'n smucken Gaarn vun de Kramers œver de summervullen Aavtbööm wunnerwarken.

Een Barg Minschen wardt Tant Clara missen. Se harr vääl gäven, harr vääl Minschenläven anröögt, un ehr Anrögen schall so gau nich vergahn. "Se harr 'n raar Läven hat", sä Sandy Fleming, een vun us schottschen Lowlanders, un dat hett he maal wedder good seggt. Ja, ehr Läven was biwääglangs heel swaar, man raar was dat alltied un allerwägens.

Bet loter, uns witte neddersassische Roos', uns seute Ollanner Deern!

Dien Reinhard
2005