Enremenkimi
(Enremenkimi Embemhit)
Egyptian (Bohairic Coptic)
---
Listen to this translation narrated with non-native pronunciation:
Translation: Botros Iostos
Location: Cairo, Egypt
Narration: Mike Szelog
Facilitation& Transliteration: Mike Szelog & Reinhard F. Hahn
Language information: [Click]

---

[Coptic Script]
[Roman Script] [Phonetic]
---
Piverin
Piverin šafer kahs entefthamio empefmoh khen etelks en-u-ervi. Khen usop avhanlai evol enje piništi enhalati emepsnav hina entutahe u-enkai e-u-omf ethve nušanš woh avkav ensôu emmavatu tiru.

Menensa ukuji ensiu efyôt verin aftasthof epimoh.

"U pe etafšôpi emnai?", enthof avgô emmos, "U pe etafervoni erôten ni-alôwi, tetenu-onh evol tiru hôs je atetenjimi enuhoti efnašt!"

Enthôu pegôu je, "Oh, avva, uništi enremenpuji afi khajen hansusu enthof efoi enho tikhen umethmii afgušt enenmoh woh won entaf emmav enhanval evoi enništi woh aftihoti nan enumiš!"

Pegaf enje efyôt verin je, "Aha, tinav, afšenaf ethôn?"

Pegôu je nane, "Afšenaf hi fai môit evolhiten fai maneššin fai."

Peje efyôt verin je, "Ohi emnai, tinašenii safaho emmof emperešthorter tinu ni-alôwi ti natahof menensôs." Aferhits enhalai evolkhen pefmoh.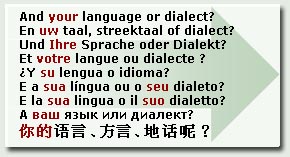 Afhalai ša pimanešši, menensa ukuji, ensiu afjimi en-o-mui.

Alla verin empeferhoti eneh, woh afi epesit hi tef cisi woh aferhits ensaji nemaf efgô emmos je ethve, "Aš enhôv aki epaii ektihoti enna alôwi empairiti?!"

Pimui empeftiehthi epihalat monon afmun evol empefjimoši.

Pihalat afgô emmos empimui je sôtem emnai emmontak uhôv emmai eneh woh akšan I enkesop. "Nane, ek enav enti-u-ôš an e-er fai tinakôš entekcisi khen tacalog khen u-estikhmi!"

Menesa etafgô emmos emfai afhalai enkesop ša pefmoh.

Enthof pegaf je, "Nane ni-alôwi, aiti-esvô empaimui evesvô ennefeši e-emnai enkesop!"