Drenthe Low Saxon
---
Listen to this translation narrated with native pronunciation:
Translation and Narration: Ingmar Roerdinkholder
Location: Zuidwolde, Drenthe, Netherlands
Language information: [Click]

---

[Dutch Spelling]
[AS Spelling] [German Spelling]
---
Et Tuynkrupertyn

Et tuynkrupertyn had syn nüst eboud in et achterhuys. Op 'n keer waren allebeyde de olde-luy uyt evloegen üm wat aeten voer de jungchys te halen, en ze hadden hoer hümmeltys glad allennig t'huys elaoten.

Nao 'n tuurtyn komp de va weer biy huys. "Wat is hyr dan an de hand?" seg e.

"Wii hev u wat edaone, kynder, da'y ja hiilemaole schrikkerig bint?"

"Och Va," segt se, "Der kwamp hyr krek so'n dikke büllebak voerbiy, dii sag der so gemiin en groulik uyt. Hiy gaapte mit syn grote ogen so uns nüssyn binnen. En daor binne wiy so benoud van ewörden."

"So,"seg de va. "Waor is e hen dan?"

"Nou," segt se, "Hiy is dii kanten uyt egaone."

"Wach y mar iins aevenpys," seg de va, "ik gao der drek achterheer. Stille mar, kynder. Ik sal 'm wel krygen..."

En hiy vlüg der achterhen.

As e de huuk üm komp löp daor de leeue.

Mar et tuynkrupertyn is niit bange uyt evallen. Hiy giit biy de leeu op de rogge sitten en begünt 'm uyt to schelden. "Wat he'y biy miy biy et nüst to suyken, iye?!" seg e hellig, "en myn jungchys benoud te maken?!"

De leeue trek 'm der niks van an en löp gewoon wyder asof e niks ehoerd hev.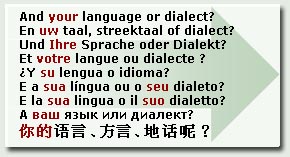 Nou begünt dat kleyn krümmeltien noch hetsiger an te gaon. "Y hebt daor niks to suyken, vertel ik u! En a'y nog iins weer duyrt te kommen," seg e, "dan sü'y et wel marken! Ik du et niit gern "en hiy hold syn iine potyn in de locht "mar ans mü'k u de rogge doer de midden trappen!"

Daornao vlüg e weer op syn nüst an.

"So, kynder," seg e. "Dat he'k hüm moy of eleerd. Dii kry'w hyr noyt weer to siine!"