Drenthe Low Saxon
---
Listen to this translation narrated with native pronunciation:
Translation and Narration: Ingmar Roerdinkholder
Location: Zuidwolde, Drenthe, Netherlands
Transliteration: Reinhard F. Hahn
Language information: [Click]

---

[Dutch Spelling] [AS Spelling] [German Spelling]
---
't Tüünkrupertien

't Tüünkrupertien hatt sien Nüst eboot in 't Achterhüüs. Op 'n Kehr waren allebede de Oldelüi üteflögen, üm wat Æten för de Jonchies te halen – en se hadden hör Hümmelties glatt allennig thüüs elåten.
Nå 'n Tuurtien komp de Va weer béj Hüüs. "Wat is hier dann an de Hand?" segg e, "Wie heff u wat edåne, Kiender, da' j' ja hielemåle schrickerig bint?"
"Och, Va", seggt se, "D'r kwamp hier kreck so 'n dicke Bülleback vörbéj. Die sach d'r so gemien en grooelik üüt. Héj gaapte mit sien grote Ogen so uns Nüssien binnen. En doar binne wéj so benaut van ewörden."
"So", segg de Va. "Woar is 'e hen dann?"
"No", seggt se, "Héj is die Kanten üütegåhne."
"Wach ie mar iens æmpies", segg de Va, "ik gåh d'r dreck achterheer. Stille mar, Kiender. Ik sal 'm well kriegen ..."
En héj flügg d'r achterhen.
As 'e de Huuk üm komp, löpp dår de Leöwe.
Mar 't Tüünkrupertien is niet bange ütefallen. Héj gieht béj de Leöw op de Rogge sitten en begünnt 'm üütteschelden. "Wat he' j' béj méj béj 't Nüst te süken, ieje?!" segg 'e hellig, "en mien Jonchies benaut te maken?!"
De Leöwe treck 'm d'r nix van an en löpp gewohn wieder, as of 'e nix ehöört heff.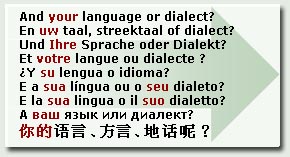 No begünnt dat klein Krümmeltien noch hetziger antegåhn. "Ie hebbt doar nix te süken, vertell ik u! En a' j' noch iens weer düürt te kommen", segg 'e "dann sü' j' 't well marken! Ik du 't niet geern" – en héj holt sien iene Potien in de Locht – "mar ans mü' 'k u de Rogge dör de Midden trappen!"

Doarnå flügg 'e weer op sien Nüst an.

"So, Kiender", segg 'e, "Dat he' 'k hüm moi ofelehrd. Die krie' w' hier nooit weer te siehne!"