Drenthe Low Saxon
---
Listen to this translation narrated with native pronunciation:
Translation and Narration: Ingmar Roerdinkholder
Location: Zuidwolde, Drenthe, Netherlands
Language information: [Click]

---

[Dutch Spelling] [AS Spelling] [German Spelling]
---
't Tuunkroepertien

't Tuunkroepertien had zien nust ebouwd in 't achterhuus. Op 'n keer waren allebeide de oldeluui uut-evleugen um wat èten veur de jonchies te halen – en ze hadden heur hummelties glad allennig thuus elaoten.

Nao 'n toertien komp de va weer bij huus. "Wat is hier dan an de haand?" zeg e. "Wie hef oe wat edaone, kiender, da'j ja hielemaole schrikkerig bint?"

"Och Va," zegt ze, "D'r kwaamp hier krek zo'n dikke bullebak veurbij, die zag d'r zo gemien en grouwelik uut. Hij gaapte mit zien grote ogen zo oens nussien binnen. En doar binne wij zo benauwd van ewörden."

"Zo," zeg de va. "Woar is e hen dan?"
"Nou," zegt ze "Hij is die kaanten uut egaone."

"Wach ie mar iens èempies," zeg de va, "ik gao d'r drek achterheer. Stille mar, kiender. Ik zal 'm wel kriegen..."

En hij vlug d'r achterhen.

As e de hoek um komp löp doar de leeuwe.

Mar 't tuunkroepertien is niet bange uut-evallen. Hij giet bij de leeuw op de rogge zitten en begunt 'm uut te schelden. "Wat he'j bij mij bij 't nust te zuken, ieje?!" zeg e hellig "en mien jonchies benauwd te maken?!"

De leeuwe trek 'm d'r niks van an en löp gewoon wieder asof e niks eheurd hef.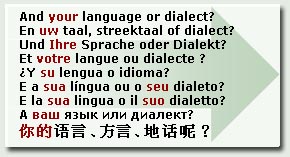 Nou begunt dat klein krummeltien nog hetsiger an te gaon. "Ie hebt doar niks te zuken, vertel ik oe! En a'j nog iens weer duurt te kommen," zeg e "dan zu'j 't wel marken! Ik doe 't niet geern" – en hij hold zien iene pootien in de locht – "mar aans mu'k oe de rogge deur de midden trappen!"

Doarnao vlug e weer op zien nust an.

"Zo kiender," zeg e. "Dat he'k hum mooi of-eleerd. Die krie'w hier nooit weer te ziene!"