Englisc
Old English (Anglo-Saxon)
---
Listen?

Translation and Narration: James R. Johnson
Location: Florida (USA)
Language information: [Click]


[Version 1] [Version 2]
---

[Period Script]
[Modern Script]
---
Se Wrenna
Þá wæs wrenna þe in wægnhúse nestlode. Hé þǽr wunode mid his cynne. Sume dæge éode hé út and his gemaca tó sécenne fódan tó bringenne hira briddum, léton hira briddas ǽne.
Æfter fæce edcóm se fæderwrenna hám.
"Hwæt hér gelamp?" áscode hé. "Belamp áht? Gé cildru þyncaþ mé swíðe geegsod!"
"Papa!" sægdon híe, "áglǽca cóm furðum big. Hé wæs egefull! Hé starode in úser nest mid his micelum éagum! Wé drédon ús þearle!"
"Ic undergiete," sægde hé. "Hwider éode hé?"
"Hé éode be þǽm wege!"
"Gé cildru ábídaþ hér," sægde se fæderwrenna. "Ic gá, him tó lǽrenne, swá þæt hé nǽfre forgiete! Ne sorgiaþ, cildru. Ic hine finde." Þus dráf hé þone áglǽcan.
Hé bíegde ymbe hwamm and seah léon forþgangendne, ac hé him ne dréd. Hé lendde rihte on léonbæc and ongann him tó giellan. "Hwá þencst þu tó béonne on eorðan, mid þý þe þu cymst tó mínum neste and egsast mín cildru þearle?!"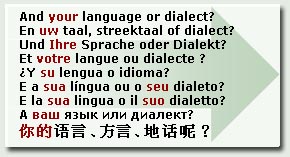 Se muntléo ne híerde ac þǽm wrennan tó, ac férde forþ.

Þæt tínde se wrenna éac furðor, and ongann sóðlíce giellan tó muntléon. "Þu næfst náne race tó cumenne tó mínum neste, and gif þu eft cymst," sægde hé, "þonne leofast þu þæt tó hréowenne. Ic nelle þearllǽcan," sægde hé, hóf his scancan in þá lyfte, "ac ic brece þínne hneccan in bearhtmhwíle!"

Þǽm gesægdum, fléw hé on bæc tó his neste.

"Nis nú náht tó sorgienne, cildru," sægde hé. "Ic tǽhte him láre. Hé ne cymþ eft ongéan."