Waray/Bisakol of Gubát
---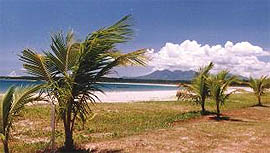 Rizal Beach is a major vacationers' attraction in Sorsogon.
Language information: The name Bikol is misleading in the case of this group of language varieties. Technically speaking, they constitute a member of the Warayan group of Philippine languages, are thus most closely related to Waray-Waray (Samarenyo). Many consider Gubát Waray a "Bisakol" language, namely a transitional variety between Bikol and Visayan (Bisayan).
Gubat Waray is used in the province of Sorsogon, which lies in the Bicol Region of Luzon Island. Geographically it is thus wedged between the Bikol varieties to the north and the Waray varieties to the south.
Genealogy: Austronesian > Malayo-Polynesian&nbsp> Western&nbsp> Philippines&nbsp> Central&nbsp> Visayan&nbsp> Central&nbsp> Warayan
Historical Lowlands language contacts: English
---
Click to open the translation: [Click]

---
Other Philippine language varieties: [Click]

---
Author: Reinhard F. Hahn