'Ibriyt • Ivrit
Hebrew
Israeli Standard Variety
---
Listen?

Translation: Reinhard F. Hahn and 'Eli'ezer Kaufman (

)
Locations: Seattle (Dzidzalal'ich), Washington, USA; Jerusalem (Yerushalayim, al-Quds), Israel
Transliteration: Reinhard F. Hahn
Language information: [Click]

N.B.: This is is one of several varieties, and it is provided for the purpose of comparison. Modern Hebrew is not normally pronounced this way.
---

[Ashkenazi] [Roman Script]
[Phonetic]
[Israeli]
[Sephardi]
[Old
]

[Hebrew Script]
---
Hagidron
Hagidron bono eys keyno batzrif ho'agolos. Yom echod shney hohorim ofu hachutzo kdey limtzo mozon legozoleyhem vo'ozvu eys haktantanim legamrey levad.
Me'uchor yoseyr shov ho'ov gidron habayso.
"Ma hisrachas kon?" sho'al, "Mi hizik lochem, yelodim? Atem kol koch nifchidim!"
"Ho, abo!" onu, "Mifletzes gedolo bo'o ze ato. Hi nir'oto ko mafchido venoro'is! Hi hibito lesoch hakeyn shelonu bo'eynayim hagdolos shelo. Locheyn onu ko mufechilim!"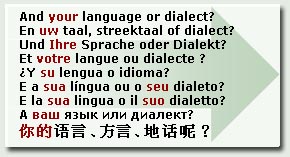 "Aho!" omar abo gidron, "Le'on hi panto?"

"Uvecheyn," omeru hagozolim, "hi panto lechivun haze."

"Himtinu kon!" omar abo gidron, "Ani aradeyf achareyo. Al do'ago, yelodim! Ani etefos oso." Ve'oz hu his'ofeyf achareyo.

Ka'asher hagiach mey'eyver lapino, ro'o shom aryey posa.

Avol hagidron eyno pachad. Hu nochas al gavo shel ho'aryey vego'ar bo. "Ma sibo lecho lovo lebaysi," hu tzo'ak, "vehifchid eys yaldey?!"

Ho'aryey mis'alam mimeynu umimshi litz'od.

Himshich hagibor hakoton venozaf bo be'azus rabo yoseyr. "Eyn lecho zechus lihyos shom, ani omeyr lecho! Vo'im tashov," hu omar, "nu, ato oz tir'e! Ani be'emes eyneyni rotze la'osos eys ze," hu omar uvesof heyrim achas miraglayo haktonos, "Hayisi shoveyr eys gavcho beragli bin-rega!"

Miyod le'achar micheyn hu shov lekeyno.

"Hiney, yelodim," hu omar, "Limadeti oso lekach. Hu le'olom lo yishov."