'Ibriyt • Ivrit
Hebrew
Israeli Standard Variety
---
Listen?

Translation: Reinhard F. Hahn and 'Eli'ezer Kaufman (

)
Locations: Seattle (Dzidzalal'ich), Washington, USA; Jerusalem (Yerushalayim, al-Quds), Israel
Transliteration: Reinhard F. Hahn
Language information: [Click]

N.B.: This is is one of several varieties, and it is provided for the purpose of comparison. Modern Hebrew is not normally pronounced this way.
---

[Sephardi] [Roman Script]
[Phonetic]
[Israeli]
[Ashkenazi]
[Old
]

[Hebrew Script]
---
Haggideron
Haggideron bana et keno batzrif ha'agalot. Yom echad shney hahorim afu hachutza kedey limtzo mazon leggozaleyhem va'azvu et haktantanim legamrey levad.
Me'uchar yoter shav ha'av gideron habayta.
"Ma hitrachash kan?" sha'al, "Mi hizik lachem, yeladim? Atem kol kach nifchidim!"
"Ho, Aba!" 'anu, "Mifletzet gedola ba'a zeh ata. Hi nir'ata koh mafchida venora'it! Hi hibita letoch haken shelanu ba'eynayim hagdolot shela. Lachen anu ko mufchilim!"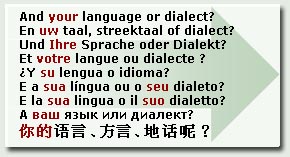 "Aha!" amar Aba Gideron, "Le'an hi panta?"

"Uvechen," amru haggozalim, "hi panta lechivun haze."

"Himtinu kan!" amar Aba Gideron, "Ani aradef achareya. Al da'aga, yeladim! Ani etfos ota." Ve'az hu hit'ofef achareya.

Ka'asher hagiach me'ever lapina, ra'a sham aryeh posa.

Aval haggideron eyno pachad. Hu nachat al gavo shel ha'aryeh vega'ar bo. "Ma siba lecha lavo lebayti," hu tza'ak, "vehifchid et yaldey?!"

Ha'aryeh mit'alam mimenu umimshich litz'od.

Himshich hagibor hakatan venazaf bo be'azut raba yoter. "Eyn lecha zechut lihyot sham, ani omer lecha! Va'im tashov," hu amar, "nu, ata az tir'eh! Ani be'emet eyneni rotzeh la'asot et zeh," hu amar uvesof herim achat miraglayo haktanot, "hayiti shover et gavcha beragli binrega!"

Miyad le'achar michen hu shav lekeno.

"Hineh, yeladim," hu amar, "limadeti oto lekach. Hu le'olam lo yishov."