Jamtlandish
---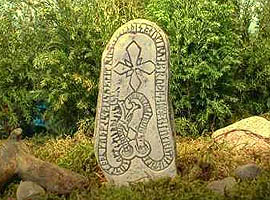 A stone with runic (Old Jamtlandish?) inscription found in
Östsundet, Jamtland. Translation: "Östman Gudfastson
had this stone put up and made the bridge, and he had
Jamtland be Christianized. Esbjerg made the bridge, but
Rivn inscribed these runes into the stone."
Language information: Jamtlandish, jaamsk or jamske (Swedish jämtska), is used primarily in the Swedish province of Jamtland (Swedish Jämtland), a North Central Scandinavian area that used to belong to Norway and fell into Swedish hands in 1645.
Language activists and numerous native speakers regard Jamtlandish as being a language in its own right, a language that, like Scanian (skånska), Elfdalian (ölvdalską, övdalsk, also known as Dalecarlian, dalska, dalmål) and Modern Gutnish (gutamål, gutniska), has been surviving, albeit barely, despite official exclusion, discouragement and neglect.
Jamtlandish shares many features with Swedish and Norwegian dialects but in its entirety represents a unique group of language varieties.
Like non-Danish-based language varieties of Norway, Jamtlandish belongs to the West Scandinavian group, as opposed to Swedish, which, like Danish, Jutish (jysk), Scanian, Dalecarlian and Dano-Norwegian (bokmål), belongs to the East Scandinavian group.
Genealogy: Indo-European > Germanic > Northern > Scandinavian > Western
---
Click to open the translation: [Jamtlandish]

---
Author: Reinhard F. Hahn