Cleves Franconian
Venlo Dialect
---
Listen to this translation narrated with native pronunciation:
Translation and Narration: Frens Bakker
Location: Venlo, Limburg (the Netherlands)
Transliteration: Reinhard F. Hahn
Language information: [Click]

---

[Dutch Spelling] [German Spelling]
---
't Winterköningske
Uëtz hat 't Winterköningske äinen Buch in de Schöör. Wie de Elders utcheflaoge ware – sej wulle vör öhr Jonge wat te äte haole – bleve de Jonge chans alläin in d'n Buch.
Nao äin Tiedje quaam de Vader trüük op 't Niss. "Waat is hej cheböört?" sach 'e, "waat sit chej te rasele? Chej sieht allemaol chans van de Wapp aaf!"
"Och, Papp", sachte se, "d'r is jüüs äinen Bumann näve d'n Buch chekumme. Hä sohch suë nött en akelik ut! Hä luurde in us Niss mit sien chruëte Ouge. Det hät os suë schou chemack!"
"Ao suë," sach de Vader, "wao is 'e härchechaohn?"
"Nou," sachte se, "hä ching dä Kant op."
"Wach," sach de Vader, "ik chaohn öm söke. Sied maar neet schou! Dä kriech ik waal." En hä flooch cheliek achter öm aan.
Wie hä d'n Hook öm quaam, sohch 'e dao äine Lieëw loupe.
't Winterköningske hat ävel chenne Fluup. 't soht sich op de Röck van de Lieëw en bechuss öm utteschubbe:
"Waat dejs dich bej mien Hüüske," sach 't, "mien Kinder schou make?!"
De Lieëw choof ävel chennen Aosem en leep chewuëhn wiejer.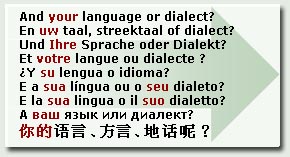 Det mackte 't Vögelke noch nüeteliker, en 't bechuss noch harder te schriëve, dä Krukestopp. "Dich häs dao chaar nix te söke, seck ik dich! En aste 't waochs trüüktekumme," sach 't, "nou, dann chüef 't wat! Ik doon 't neet chär," sach 't, en 't höfte äin van sien Püetjes op, "maar ik bräk dich de Röck mit miene Puët!"

Daonao flooch 't trüük nao sienen Buch.

"Suë, Kinder," sach 't, "dä hebb ik ens chood de Worm chesägend. Dä kömp nuëts mieër trüük."