Cleves Franconian, Southern Guelder Franconian
---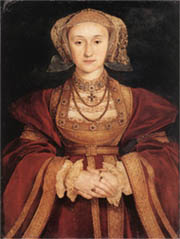 Possibly a speaker of Cleves
Franconian, Anne of Cleves
(1515–1557) was one of the six
wives of England's Henry VIII
(1491–1547).
Language information: Cleves Franconian (Kleverländisch, Kleverlands), which is also known as Southern Guelder Franconian (Zuid-Gelders), is a group of Low Franconian varieties spoken in Germany's state of North-Rhine-Westphalia and in a small contiguous area of the Netherlands.
This includes the dialects of Rheden, Mülheim on Ruhr, Cleves (Kleve, Kleef), Oberhausen, Essen-Werder, Gummersbach, Wuppertal, Duisburg, Venlo, Venray, Cuijk, Groesbeek and Zevenaar, also the dialects of Northern Limburg and those called Ostbergisch in Germany.
Cleves Franconian is often called Niederrheinisch-Bergisch in Germany, and popularly the Cleves Franconian dialects tend to be lumped together with Low Saxon, a different language, under the labels Niederdeutsch or Plattdeutsch. Together with Limburgish it is often referred to as Rhein-Maasfränkisch or Rhein-Maasländisch.
Being Low Franconian, it belongs to the same language sub-group as do Dutch and Afrikaans, and it is also very closely related to the Limburgish and Ripuarian varieties.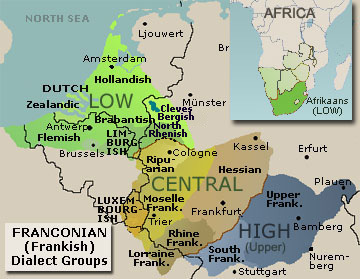 Genealogy: Indo-European > Germanic > Western > Franconian > Low > Cleves-Gelderland
Author: Reinhard F. Hahn
---
---