Cleves Franconian
Venlo Dialect
---
Listen to this translation narrated with native pronunciation:
Translation and Narration: Frens Bakker
Location: Venlo, Limburg (the Netherlands)
Language information: [Click]

---

[Dutch Spelling] [German Spelling]
---
't Winterkeuningske
Oeëts had 't winterkeuningske einen bóch in de scheur. Wie de elders oetgevlaoge ware – zeej woelle veur eur jónge wat te aete haole – bleve de jónge gans allein in d'n bóch.

Nao ein tiedje kwaam de vader truuk op 't nis. "Waat is heej gebeurd?", zag-e, "waat zit geej te razele? Geej ziet allemaol gans van de wap aaf!"

"Och pap", zagte ze, "d'r is juus einen boeman naeve d'n bóch gekómme. Hae zoog zoeë nut en akelik oet! Hae loerde in ós nis mit zien groeëte ouge. Det haet ós zoeë schouw gemak!"

"Ao zoeë", zag de vader, "wao is-e haergegaon?"

"Nouw", zagte ze, "hae ging dae kant op."

"Wach", zag de vader, "ik gaon um zeuke – ziet maar neet schouw – dae krieg ik waal." En hae vloog geliek achter um aan.

Wie hae d'n hook um kwaam, zoog-e dao eine lieëw loupe.

't Winterkeuningske had aevel genne floep. 't Zoot zich op de rök van de lieëw en begós um oet te schoebbe:

"Waat deejs dich beej mien huuske", zag 't, "mien kinder schouw make?!"

De lieëw goof aevel gennen aosem en leep gewoeën wiejer.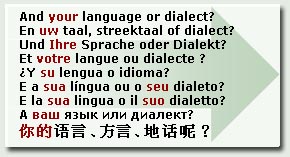 Det makde 't veugelke nog nuueteliker en 't begós nog harder te schrieëve, dae kroekestop. "Dich haes dao gaar niks te zeuke, zek ik dich! En as-te 't waogs truuk te kómme", zag 't, "nouw, dan guuef 't wat! Ik doon 't neet gaer", zag 't, en 't höfde ein van zien puuetjes op, "maar ik braek dich de rök mit miene poeët!"

Daonao vloog 't truuk nao zienen bóch.

"Zoeë, kinder", zag 't, "dae heb ik ens good de worm gezaegend. Dae kump noeëts mieër truuk."