Münsterland Low Saxon
---
Listen?

Translator: Egon Reiche
Location: Bocholt, North Rhine-Westphalia (Germany)
Transliteration: Reinhard F. Hahn
Language information: This dialect is transitional between North Saxon, Eastphalian and Westphalian. [Click here for more.]
---

[German Spelling]
[Dutch Spelling] [AS Spelling]
---
Den nettel-könning
Den nettel-könning hadde sin nüst in 'en korenschoppe boud. Ens wassen de beyden olden uut evloggen. Se hadden wat halen wollen, üm oere jungen to furen, un se hadden de kleynen gans alleen elaoten.
En tuur laeter keem 'en olden weer trügge.
"Wat is hyr geboerd?" freeg he. "Wel hev ou wat edaon, kinder? Iy bünt jao gans verpüchtert!"
"Och, Vater," saggen se, "hyr keem aeven so 'ne unnösselen kerl vörbiy. Den saoch so wanig un schreklik uut! He glyven met syne grote ogen in unse nüst harin. Dat hev uns so verschrikt emakt."
"Kyk an," sag den olden, "waor is he dan eblevven?"
"Jao," saggen se, "he is daor lengs egaon."
"Waocht maor," sag den olden, "den gao ik d'r achterheer. West maor ruïg, kinder! Den wil ik miy pakken."Daormet flog he d'r achterheer.
As he üm 'en hook keem, was et den loeve wel daor lengs gung.
Den nettel-könning was nich bange. He sat sik up dnn rüggen van den loeve un begun to schandalen. "Wat hes dou biy myn huus to soeken," sag he, "un myne kleynen kinder verschrikt to maken?"
Den loeve leet sik niks angaon un gung synen weg.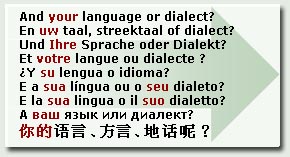 Daor schandalen et noch meer, dat dryste kerlken. "Övverhaup niks hes dou daor to soeken, segge ik diy! Un kümps dou weer," sag he, "dan sas dou wat belaeen! Ik mag et egentlik nich doon," sag he un boeren een been hoge, "süns had ik diy den rüggen kapot etrodden!"

Daornao flog he weer trügge nao syn nüst.

"So, kinder," sag he, "den heb ik et egovven. Den kümp nich weer."