Münsterland Low Saxon
---
Listen?

Translator: Egon Reiche
Location: Bocholt, North Rhine-Westphalia (Germany)
Transliteration: Reinhard F. Hahn
Language information: This dialect is transitional between North Saxon, Eastphalian and Westphalian. [Click here for more.]
---

[German Spelling]
[Dutch Spelling] [AS Spelling]
---
Den nettelkönning
Den nettelkönning hadde zien nust in en kaorenschoppe baaut. Ens wassen de baaiden olden oetevloggen. Ze hadden wat halen wollen, um eure jongen to voern, on ze hadden de klaainen gaans alléin elaoten.
En toer laeter kéim en olden weer trugge.
"Wat is hier gebeurt?" vréig he. "Wel helf ouw wat edaon, kinder. Éj bunt jao gaans verpuchterd!"
"Och, Vater", zaggen ze, "hier keem even zo ne onnösselen kéirl veurbéj. Den zaog zo wanig on schreklik oet! He glieven met ziene grote ogen in onse nust harin. Dat haef ons zo verschrikt emaakt."
"Kiek an," zag den olden, "waor is he dan eblewwen?"
"Jao", zaggen ze, "he is daor laengs egaon."
"Waaocht maor", zag den olden, "den gao ik d'r achter heer. West maor roeig, kinder! Den wil ik méj pakken." Daormet vlog he d'r achter heer.
As he um en hook kéim, was et den leuwe, wel daor lengs gong.
Den nettelkönning was nich baange. He zat zik op den ruggen van den leuwe on begon to schaandaolen. "Wat haes douw béj mien hoes to zuiken," zag he, "on miene klaainen kinder verschrikt to maken?"
Den leuwe léit zik niks aangaon on gong zienen weg.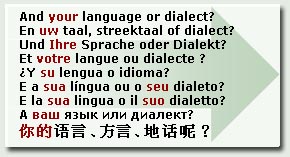 Daor schandalen et noch méir, dat drieste kéirlken. "Öwwerhaaup niks haes douw daor to zuiken, zaegge ik déj! On kumps douw weer," zag he, "dan zas douw wat belaewen! Ik mag et éigentlik nich doon," zag he on beurn éin béin hoge, "suns had ik déj den ruggen kapot etrodden!"

Daornao vlog he weer trugge nao zien nust.

"Zo, kinder," zag he, "den haeb ik et egowwen. Den kump nich weer."