Münsterland Low Saxon
---
Listen?

Translator: Egon Reiche
Location: Bocholt, North Rhine-Westphalia (Germany)
Language information: [Click here.]
---
---
Denn Nettelkönning
Denn Nettelkönning hadde sin Nüst in en Korenschoppe baut. Ens wassen de beiden Olden utefloggen. Se hadden wat halen wollen, ümm öre Jungen to furn, un se hadden de Kleinen gans alleen elaoten.

En Tour läter keem en Olden weer trügge.

"Wat is hier gebört?" freeg he. "Well hälf ou wat edaon, Kinder. Ej bünt jao gans verpüchtert!"

"Och, Vater", saggen se, "hier keem äwen so ne unnösselen Keerl vörbej. Denn saoch so wanig un schrekklik ut! He gliewen met sine grote Oogen in unse Nüst harin. Dat häf uns so verschrikkt emakt."

"Kiek an", sagg denn Olden, "wor is he dann eblewwen?"

"Jao", saggen se, "he is dor längs egaon."

"Waaocht mor", sagg den Olden, "denn gao ik drachterheer. West mor ruhig, Kinder! Denn will ik mej pakken." Dormet flogg he drachterheer.

As he ümm en Hook keem, was et denn Löwe, well dor längs gung.

Denn Nettelkönning was nich bange. He sat sik up denn Rüggen van denn Löwe un begunn to schandalen. "Wat häs dou bej min Hus to söken", sagg he, "un mine kleinen Kinder verschrikkt to maken?"

Denn Löwe leet sik niks angaon un gung sinen Wegg.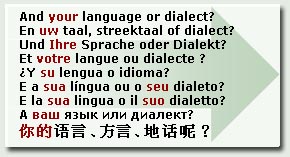 Dor schandalen et noch meer, dat driste Keerlken. "Öwwerhaup niks häs dou dor to söken, sägge ik dej! Un kümps dou weer", sagg he, "dann sas dou wat beläwen! Ik magg et eegentlik nich don", sagg he un börn een Been hooge, "süns hadd ik dej denn Rüggen kapott etrodden!"

Dornao flogg he weer trügge nao sin Nüst.

"So, Kinder", sagg he, "denn häbb ik et egowwen. Denn kümp nich weer."