Stellingwerven Low Saxon
---
Listen to this translation narrated with native pronunciation:
Translation and Narration: Johan Veenstra
Location: Nijeholtpade, Friesland (the Netherlands)
Transliterator: Ingmar Roerdinkholder
Language information: Stellingwerven Low Saxon is one of the varieties of the Low Saxon language, spoken in the southeastern part of the Netherlands province of Fryslân (Friesland). It is one of the dialect groups with Frisian substrates (like Low Saxon of Groningen, Emsland, Oldenburg and Eastern Friesland). [Click here for more.]
---

[Dutch Spelling]
[AS Spelling] [German Spelling]
---
Et duumpyn
Et duumpyn hadde syn nüst in et waegenhokke. Op een keer weren beyde olden uyt-vloegen. Se hadden eten haelen wild voer de jungen en hadden de jungkys hiilendal aliinig laoten.
Nao een schoffyn komt heyt-duumpyn weer t'huys.
"Wat is hyr geboerd?" segt hiy. "Wii het jim wat daon, kyndtys? Jim trillen van de schrik!"
"Och Heyt," seggen se, "der kwam su'n mal, groot ding langes dat ons verschrikt maekt het. Et sag der so lelk en gryselig uyt! Et luurde mit syn grote ogen biy ons in et nüst. Dat het ons so benaud maekt!""
"So," segt de heyt, "waor is et henne gaon?"
"Nou," seggen se, "et is dii kant uyt-gaon."
"Wacht mar es evenpys," segt de heyt, "ik gao et achternao. Sit der mar niit over in, kynder. Ik sal et wel to pakken krygen.
En dan vligt hiy der achterran.
As hiy de huke umme komt, lopt daor de leeu.
Mar et duumpyn is niit bange uytvalen. Hiy strikt op 'e rogge van de leeu daele en begint dii uyt to huteln. "Wat heb y biy myn huys to suyken?" segt hiy, "en myn jungkys bange to maeken?"
De leeu trekt him der niks van an en lopt gewoon doer.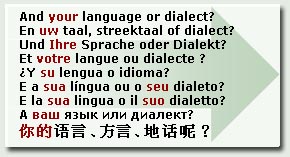 Dan begint et kleyne raosbekkyn noch meer tekeer te gaon. "Y hebben der niks to maeken, seg ik jou! En a'y nog es werumme kommen", segt hiy "dan sü'y wel es siin wat der geboert! Ik du et niit graeg," segt hiy, en hiy tilt syn iine potyn op, "mar dan breek ik jou de rogge."

En dan vligt hiy werumme naor et nüst.

"So, kyndtys," segt hiy, "dat he'k him of-leerd. Dii komt hyr niit meer daele."